Community Liaison Officer, Sgt. Jerrold Infalvi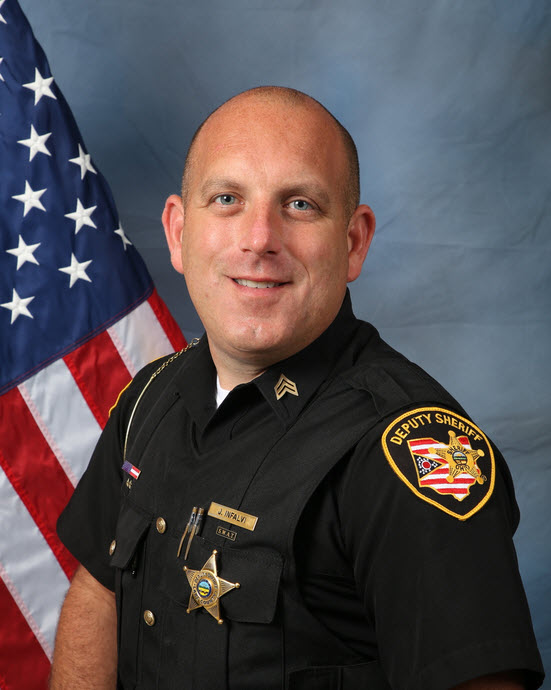 I am Sgt. Jerrold Infalvi. As the community outreach liaison I hope to undertake and design a vast variety of programs, events, resource meetings and training opportunities designed for the direct involvement of the great citizens of Lake County. As well, as the community liaison I keep the community appraised on security concerns taking place in our neighborhoods and offer sound tips on security and proactive approaches to neighborhood involvement in security awareness.

The Lake County Sheriff's Office is comprised of extraordinary men and women, who are committed to providing high quality service aimed toward the betterment of society in order to ensure the highest quality of life for all people. The relationship between law enforcement and the community is dynamic and always evolving. It is our commitment to the citizens of Lake County that the Sheriff's Office recognizes these demands and works to explore new and innovated ways to enhance our services to meet those challenges. We cannot fully accomplish this mission without the support and continual interaction with the members of the community we serve.
The following are a few examples of the organizations that as the community Liaison I work with to build a partnership with:
Local Governments
Local neighborhood associations
Alcohol, Drug Addiction and Mental Health Services
Lake County Council on Aging
Crossroads Health
Crisis Intervention Training
Jobs and Family Services
Lake County Safe Communities Coalition
Lake County Victims Assistance
Forbes House
Caley Home
Leadership Lake County
Junior Leadership Lake County
Project Hope
AMVETS and VFW
Warming centers
Salvation Army
Local School Districts
MADD/SADD
Greater Lake County Young Marines

The following are a few community educational courses the community liaison will work to implement:
Lake County Sheriff's Office Explorer's Post:
Citizens Police Academy:
This program is designed for teenagers and young adults and is a membership-based association. These youth and young adults will train with law enforcement on a regular basis, organize community events, assist with community service functions and prepare themselves for a career in law enforcement.
Safety Town:

This is a program designed for younger children to learn an array of safety measures to keep themselves safe in the community and home.


Child Restraint Installation:

This program is designed to have certified installers from the Lake County Sheriff's Office properly secure child car seats into the family vehicle.


Presentations to Community Organizations, Associations and Businesses:

We want to hear from you and learn about how we as an agency can better serve you! We would love to attend meetings and meet board members, association member and business owners/managers. Please reach out to us, so we can arrange a meeting to cover a topic of your choosing.
These are just a few examples of relationship improvements we are making to better serve you. We cannot accomplish this without the support of the community since you are the fabric of our society. We want to have a stronger relationship with you and encourage you to use this service.
I can be reached via the following:
Sergeant Jerrold Infalvi
Email: jinfalvi @lakecountyohio.gov
Direct Phone Number: 440-350-5598

The Lake County Sheriff's Office thanks you for your support and looks forward to energizing our relationship with you.