As the Sheriff of Lake County many have asked if I could tell a little bit about myself, my background and experience, so people know who this person is representing them as Sheriff.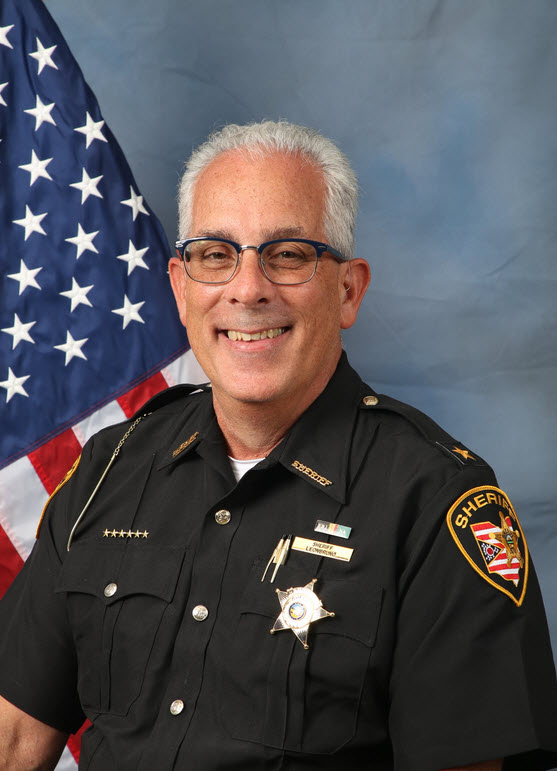 My name is Frank Leonbruno. My wife Heidi and I have been married for 34 years and we have raised two daughters and two sons here in Lake County where we were both born and raised. Both of my sons and my son-in-law are also police officers right here in our Lake County communities. We are the proud grandparents of 5 granddaughters and 2 grandsons.
I have been a proud member of the Lake County Sheriff's Office for over 33 years. Throughout my career I have continually sought to increase the professionalism of the Sheriff's Office. Starting as a Corrections Officer in 1989 I was promoted to Sergeant, followed by Captain and Jail Administrator – a position held for 17 years. As the Jail Administrator I worked with over 100 Correction Officers and jail staff, supervising nearly 400 inmates. We accomplished many things together as a staff, and became the first jail in Ohio ever to be certified as being compliant with of the Ohio Minimum Jail Standards.
During that time I also served as the SWAT Team Hostage Negotiator and instructed in the Corrections and Police academies. In 2011 Sheriff Dunlap promoted me to Chief Deputy, second in command of the Sheriff's Office. As Chief Deputy I was responsible for all operations, including Road Patrol, Court Security, Jail, Communications/Dispatch, Administrative Support Services, SWAT Team, Marine Patrol and CCW/SORN divisions. These duties required the efficient management of a $17 million dollar budget, 250 employees, media relations, social media platforms, establishing department policy, contract negotiations, and advanced training.
My education includes a Master's Degree in the Administration of Justice and Security from the University of Phoenix, as well as a Bachelor of Arts degree in History and Philosophy from Borromeo College of Ohio. I am proud of the fact that in 2009 I graduated from the FBI National Academy, a program that less than 2% of police officers have the opportunity to attend in their career. My other certifications include: graduate of the Certified Law Enforcement Executives program (CLEE), graduate of the Police Executive Leadership College (PELC), graduate of the National Institute of Corrections, and one of the first Certified Jail Managers in the United States through the American Jail Association. For the past 27years I have had the opportunity to teach at Lakeland Community College in its Criminal Justice degree program in the areas of Criminal Law, Criminology, and Crisis Intervention.
Yet my proudest moments have come along side my wife Heidi as we have raised two sons, two daughters, and six fantastic grandchildren (and growing). Both of my sons and my son-in-law serve as police officers right here in Lake County. We have all been members of St. Cyprian's Parish in Perry for over 25 years and believe that our faith in God is a critical part of our personal and family development, in addition to the service to our community.

While I am not perfect, my wife Heidi will tell you that I am a man of faith, believe in the importance of family, and an extremely hard worker who believes in the equality of law and the critical role that the Sheriff's Office has in doing the right thing for the people of Lake County. As Sheriff I will continue to work with area police and fire chiefs to insure that we are using our best resources to defend the safety and security of our community. I promise to work with our elected officials at every level to ensure that we are a collaborative partner in making this county a phenomenal place to live.
I feel fortunate to have a tremendously skilled and experienced management team and outstanding individuals throughout our Sheriff's Office. Jeff Sherwood serves as our Chief Deputy, Capt. Daniel Bachnicki manages Central Communications, Capt. Cynthia Brooks is our Jail Administrator, Lori Gladding oversees our Administrative Support Services, Lt. Larry Harpster runs our Detective Bureau, Lt. Bob Izzo directs Road Patrol operations, Lt. Pat Paterson directs Court Services, and Kevin Fogle handles our IT operations. They are tremendously skilled and I am honored to serve with them.
I look forward to everyday here at the Sheriff's Office moving us forward to meet the challenges of tomorrow by doing great things today. I consider it a great honor to serve all of you as Sheriff. If you ever have a question or feel you need to discuss something with me please do not hesitate to call. My office number is (440)350-5517 and my email address is [email protected]. Or stop in it would be great to see you!
~ Sheriff Frank Leonbruno
Education and Training
· Master of Science Degree in Administration of Justice and Security
· Bachelor of Arts Degrees in History and Philosophy
· FBINAA Federal Bureau of Investigation National Academy Graduate 237th Session
· CJM (American Jail Association Certified Jail Manager) since 1997
· CLEE Certified Law Enforcement Executive Academy Graduate 2004
· PELC Police Executive Leadership College Graduate 2003
33 Years of Service to the Lake County Sheriff's Office:
· Sheriff of Lake County since September 2019
· Chief Deputy 2011-2019
· Captain/Jail Administrator 1993-2011
· Corrections Sergeant 1991-1993
· Corrections Officer 1989-1991
· Lake County SWAT Team / Lead Hostage Negotiator 1992 – 2011
· Adjunct Professor at Lakeland Community College in Criminal Justice since 1996-2019 in Criminal Law and Criminology
· Guest Speaker at the University of Istanbul, Turkey on Jail Reform
· Corrections Professional Magazine Board Member
· Lake County Community Corrections Board Member
· Lakeland College Criminal Justice Board Member
· Member of the Lake County Chiefs of Police Association
· Lakeland Police Academy Graduate – Certified Law Enforcement Officer
· FBI Crisis Negotiations Certification / OPOTA Crisis Negotiations Certification
· Strategies for Building Effective Work Teams National Institute of Corrections Longmont, Colorado
· OPOTA 136 Hour and 40 Hour Corrections Academy School Commander
· OPOTA Police Academy Instructor since 1994
· OPOTA 136 Corrections Academy Instructor since 1994
· Certified in the Reid Technique Criminal Interviews and Interrogation
· Founder of the Transformational Leadership Development Group
· Member of the Lake County FOP