Solid Waste Management District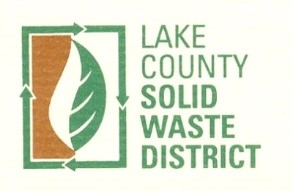 The Lake County Solid Waste District is the leading resource in Lake County for information, expertise and programs that support sustainable materials management and reduce the environmental impact of waste. Our work empower residents, communities and organizations to manage their waste responsibly by reducing, reusing, recycling and composting. The Solid Waste Management District also oversees the disposal of solid waste products. It supports youth educational programs, recycling initiatives and county wide special collections of computers, scrap tires, and household hazardous waste events during the year. District's Goals for Waste Reduction
District's Goals for Waste Reduction
Promote Awareness
Provide Assistance
Achieve Results
Solid Waste Management Plan-Approved
Disposing of Pharmaceuticals
The Lake County General Health District and Solid Waste District administer the Pharmaceutical Drug Collection & Disposal Program. This program allows residents to remove controlled substances from medicine cabinets in a swift time frame, thereby reducing confusion, abuse, and the disposal of unwanted drugs down the toilet or in the trash. All pharmaceutical drugs collected in these bins will be destroyed safely by incineration.
WARNING, DO NOT BRING: Mail Orders, Needles, or Syringes
NOTE: Remove or black-out personal information on the pharmacy label, otherwise leave in the original package/container.
Drop Off Pharmaceutical Drugs Only
Unused Medications
Expired Medications
Prescription Pills
Non-Prescriptions Pills
Syrups
Creams
Pain Relievers
Cold/Flu Medicine
Vitamins
Pet Medications
Hours
Monday-Friday: 7:00AM-8:00PM
Saturday: 9:00AM-5:00PM
Sunday: 1:00PM-5:00PM *
*Except Lakeland C.C location

For additional assistance, contact the Health District at 440-350-2543 or lcghd.org
Business Waste Reduction Committee
Mission
The Business Waste Reduction Committee focuses its work on implementing the district's waste reduction plan for commercial business and industries by:
Identifying and promoting methods by which commercial, industrial, governmental and non-profit establishments can recycle or reduce waste.
Facilitate the proactive sharing of information, resources and expertise in support of waste minimization efforts across the county.
Document the results of those activities.
Education Outreach
Lake County's Ohio State University Extension and the Solid Waste District work collaboratively in conjunction to support education programs that teach elementary students how they can help the earth. Through monthly activities, these students learn about litter prevention, reduction, re-using and recycling. Beth Bollas, OSU Program Assistant, leads programs like Fantastic Plastic which educates students on how plastics are not all equal. During this activity, students color plastic pieces, that when heated shrink. As a bonus reminder they keep their unique "I Love Recycling" key chains to put on their back packs. These types of programs ignite family discussions on recycling and enhance students' understanding of preserving landfill space.
If you are interested in scheduling your class or group to participate in these programs,
please contact Beth Bollas from The Ohio State Extension.
Standard Business Hours
Monday-Friday: 8:00AM – 4:30PM
Tel: (440) 350-2208
Email:[email protected]