History of the Greater Mentor Sewer District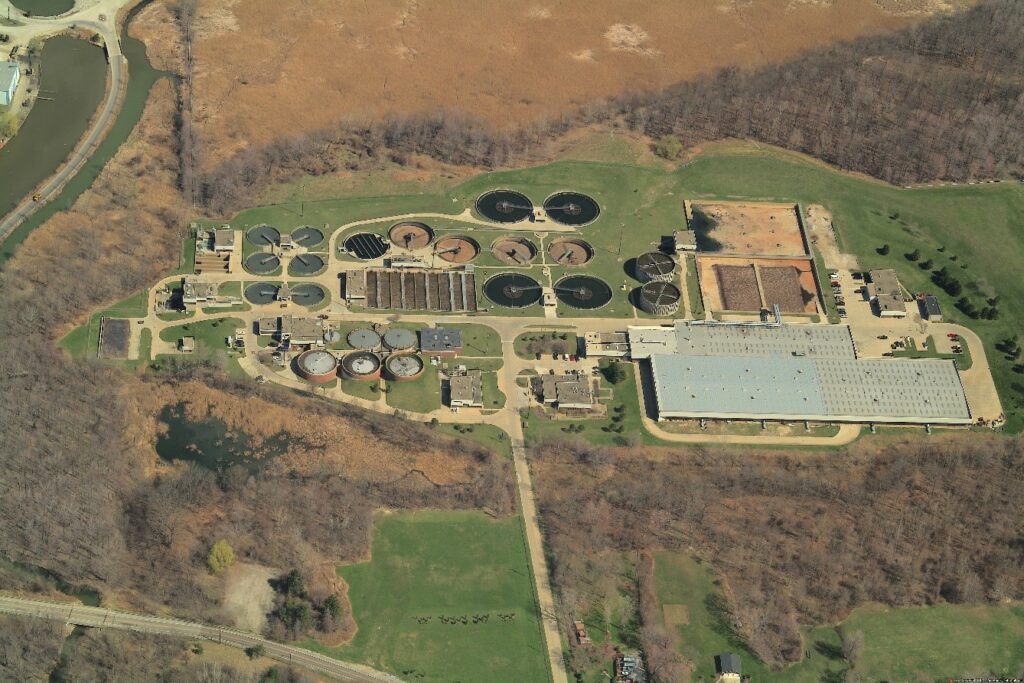 The original Greater Mentor Wastewater Treatment Facility was constructed in 1964 as part of an extensive sewerage improvement by Lake County in the rapidly developing Mentor service area. The facility was designed as a primary treatment plant, with chemical coagulation of the wastewater, to treat a design flow of 4 million gallons per day (MGD). The sludge produced at the facility was anaerobically digested and dewatered using vacuum filtration.
In 1973, the facility was expanded to an 8 MGD activated sludge plant with a maximum hydraulic design flow of 20 MGD, which included 6 aeration tanks, 3 final settling tanks and an activated sludge dewatering process.
In 1986, the facility was upgraded to a 14.2 MGD activated sludge plant with a hydraulic capacity of 55 MGD. Equalization basins were added to provide storage of flows above the design rate of 14.2 MGD. Four additional primary settling tanks were added to provide adequate detention time for settling. Two more final settling tanks were then added along with trickling filters, enhanced sludge dewatering processes for anaerobic and waste activated sludge, and composting.
In 2000, the facility was upgraded to a 20 MGD activated sludge plant with a peak design flow rate of 32 MGD and a hydraulic capacity of 55 MGD. The expansion included: new influent pumps, 3 additional aeration basins, 4 new final settling tanks, new flow equalization facilities, odor control processes and modifications to the compost process, sludge holding, improved sludge dewatering processes and stand-by generators to provide power to the facility in the event of any power outage.
 The GLKWRF provides service for the residents and businesses of Mentor, Grand River, Fairport Harbor, Mentor-on-the-Lake, Concord Township and portions of Painesville Township and Kirtland.  The facility discharges safe and clean water back to Lake Erie.
History of the Greater Madison Sewer District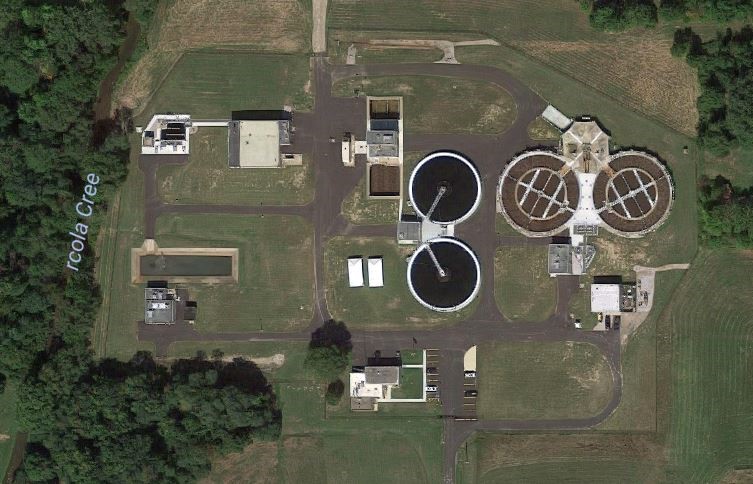 The original Madison Wastewater Treatment Facility was constructed in 1924 at a cost of roughly $20,000, and was designed to provide sanitary sewer service to Eastern Lake County. The facility consisted of a course-screening chamber, a settling tank and a disinfection area prior to wastewater being discharged into Lake Erie.  An interceptor sewer and the Lake Road Lift Station followed in the same year.  Based on the original general plan, this system was necessary to serve the many cottages being constructed along Lake Erie. 
In 1958, increased growth in the area required the construction of a second settling tank and a new outfall pipe extending 500 feet into Lake Erie.  This expansion had an estimated cost of $350,000 and doubled the capacity of the Dock Road facility to approximately 2 MGD.
In the early 1970s another expansion was needed. The options included expanding the facility at the existing site or reconstructing a new facility elsewhere. A new facility was deemed to be the best option because of new environmental regulations proposed in the U.S. Congress, along with the development of newer technologies allowing for improved treatment. The new facility was constructed for roughly $4 million on the north east corner of Cashen Rd. (then Vrooman Rd.) and Dock Rd. The treatment facility was designed to routinely handle 3 MGD, but can handle up to 7.5 MGD during rain events when inflow/infiltration of rain water into the system increases. The facility served nearly 5,000 homes and businesses at that time.
In 1985, a new 30-inch, 3,000 foot long outfall sewer was constructed from the facility to the site of the former Dock Road Facility, and was connected to the preexisting outfall sewer.
In 1995, there was a facility upgrade project to add de-chlorination facilities and a new tertiary filter waste backwash water holding/flow equalization basin. These improvements allowed the facility to continue to meet the evolving discharge permit limits.
In 2006, planning for a facility upgrade and expansion occurred. In 2012, plans were developed to expand the existing 3.0 MGD tertiary treatment facility to 5 MGD.
In 2015, the expansion was completed and included:
better screening equipment
grit removal and handling system
secondary treatment for biological nutrient removal process
ferrous chloride feed system for supplemental phosphorus removal
sludge thickening
ultra-violet system for disinfection
electrical power distribution system upgrade
1,500 kW stand-by generator and transfer switch and switchgear
plant-wide supervisory control and data acquisition
effluent pumping facility to discharge up to 15 MGD of effluent flow to handle peak flow demands
The wastewater treated at this facility is returned to Lake Erie, after having received a complete tertiary treatment. Sludge produced at this facility is transported to the Gary L. Kron Water Reclamation Facility in Mentor for processing.
The Madison Wastewater Treatment Facility serves residents and businesses in Madison Township, North Perry Village, Perry Township and Perry Village.