Skip to Resources Section
PRESS RELEASE
County Commissioners and Treasurer Return Taxpayer Funds
The Lake County Board of Commissioners, along with Treasurer Michael Zuren, announced a renewed effort to return surplus taxpayer funds to local property owners at the September 30, 2021 board meeting.   The Treasurer's Office, per the Ohio Revised Code, is responsible for a surplus overage account. Please click here to view the entire news release.
Lake County Commissioners, Clerk of Courts, and Perry Township Trustees Announce Additional Road Patrol in Perry Township
As crime has increased across the United States the Lake County Commissioners recognized the growing need for a stronger law enforcement presence across the townships. Recognizing the financial constraints of township government to address the immediate need for increased policing with limited revenue the Lake County Commissioners created a local COPS grant.
With the assistance of Clerk of Courts Faith Andrews they created a program to help immediately fund increased Sheriff's Deputies in the townships by offering to provide a second deputy for every deputy added to current policing contracts. The program would continue to fund the additional deputy(s) for a period of four (4) years to enable enough time for the township to find alternative funding sources to assume the financial responsibility of the added deputies after four years.
Today the Perry Township Trustees announced that they would be the first township to take advantage of this localized grant program. The Perry Township Trustees explained that they would be hiring two (2) new deputies in a contract with the Lake County Sheriff's Office to patrol Perry Township. Additionally, they would accept the second two (2) deputy sheriffs paid for by the Commissioners to add to local patrol in Perry Township. Their intent would be to then explore alternative funding sources to increase localized patrol throughout their area.
Please click here to view the entire news release.
Willow Praise Church & Volunteers recognized by Lake County Board of Commissioners for providing over 23,000 lunches to children in need during COVID-19 Pandemic
On Friday, August 13, 2021, the Board of Lake County Commissioners issued a formal Certificate of Recognition to Willow Praise Church and their volunteers for providing over 23,000 free lunches to children in need during the COVID-19 pandemic and government lockdowns. Commissioner John Plecnik presented the Certificate to Pastor Larry Bogrenrief and volunteer Michael Zuren at Willow Praise Church in Willowick. The Certificate thanks local businesses, churches, elected officials, nonprofits, and volunteers who came together in March 2020 to feed the hungry. Please click here to view the entire press release.
Please click here to view the certificate.
COUNTY COMMISSIONERS CELEBRATE RECORD-BREAKING 2021 FAIR SEASON; THE BIGGEST COUNTY FAIR IN 169 YEARS
PAINESVILLE, OH, August 12, 2021 – The Lake County Fair (held from July 27th– August 1st) was a phenomenal success with 133,384 people in attendance; a new record that surpassed the previous one set in 2001. In their August 12th meeting, the Lake County Board of Commissioners issued a resolution honoring the Fair Board and staff who played such a key role in its success. Please click here to view the entire press release.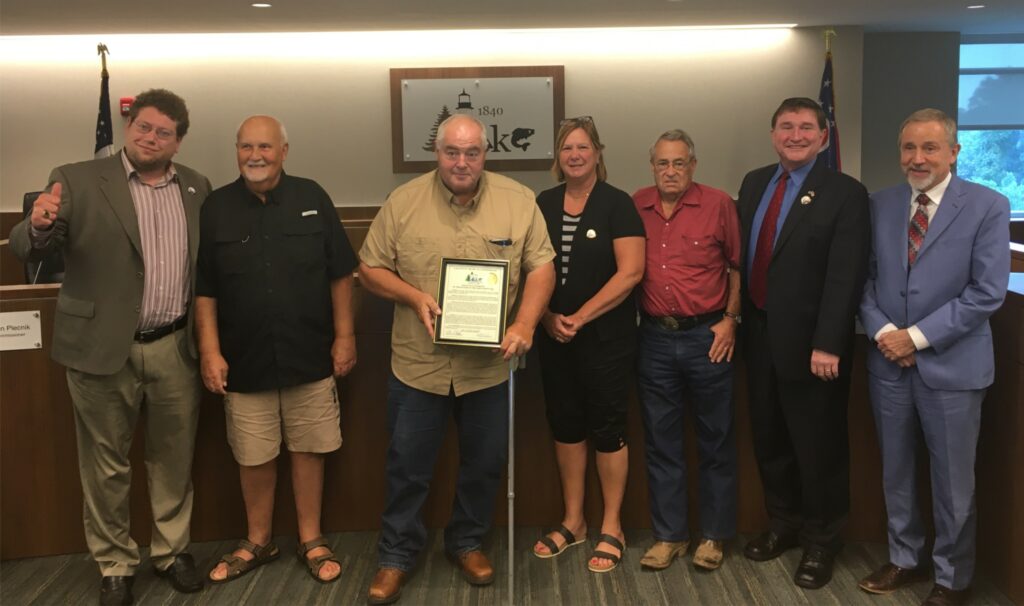 LAKE COUNTY BOARD OF COMMISSIONERS AND LAKE COUNTY GENERAL HEALTH DISTRICT PARTNER ON MOBILE MEDICAL CLINICS
The Board of Lake County Commissioners has partnered with the Lake County General Health District to purchase a mobile medical unit for use throughout Lake County. The mobile medical unit will be used to help bring the COVID-19 vaccine to all areas of Lake County and ensure that all Lake County citizens have the opportunity to receive the COVID-19 vaccination. The mobile medical unit is accessible for individuals with physical disabilities and will allow the Lake County General Health District to better serve the whole community, including persons with disabilities and persons who are homebound. Please click here to view the entire press release.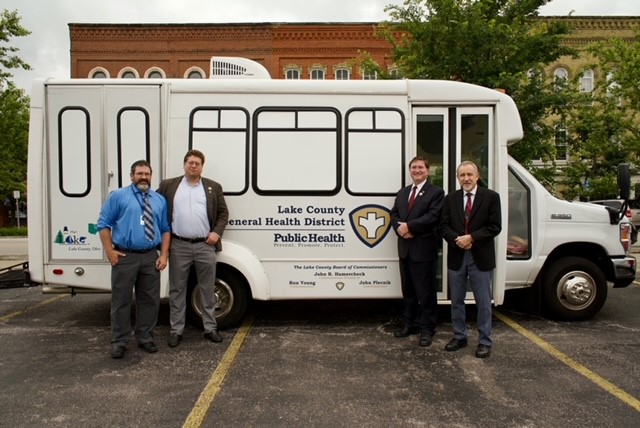 Commissioner John Plecnik graduates from Ohio Public Leadership Academy
On Friday, July 16, 2021, the Board of Lake County Commissioners announced Commissioner John Plecnik graduated from the Ohio Public Leadership Academy for state and local elected officials at the John Glenn College of Public Affairs.
"Selection for the Ohio Public Leadership Academy is a great honor reserved for local leaders with the highest potential," said Commissioner John Hamercheck, president of the Board of Lake County Commissioners. "It's official, Commissioner John Plecnik is a rising star."
The Glenn College is named for astronaut and U.S. Sen. John Glenn and is the public policy school at The Ohio State University. According to the Glenn College, "The Public Leadership Academy brings together a bipartisan group of rising Ohio elected officials to learn from each other and build lasting relationships across political boundaries. The intensive, one-week, residential Academy builds trust among participants who return to political life with a better understanding of their colleagues and a renewed commitment to public service."
Please click here to view the press release in its entirety.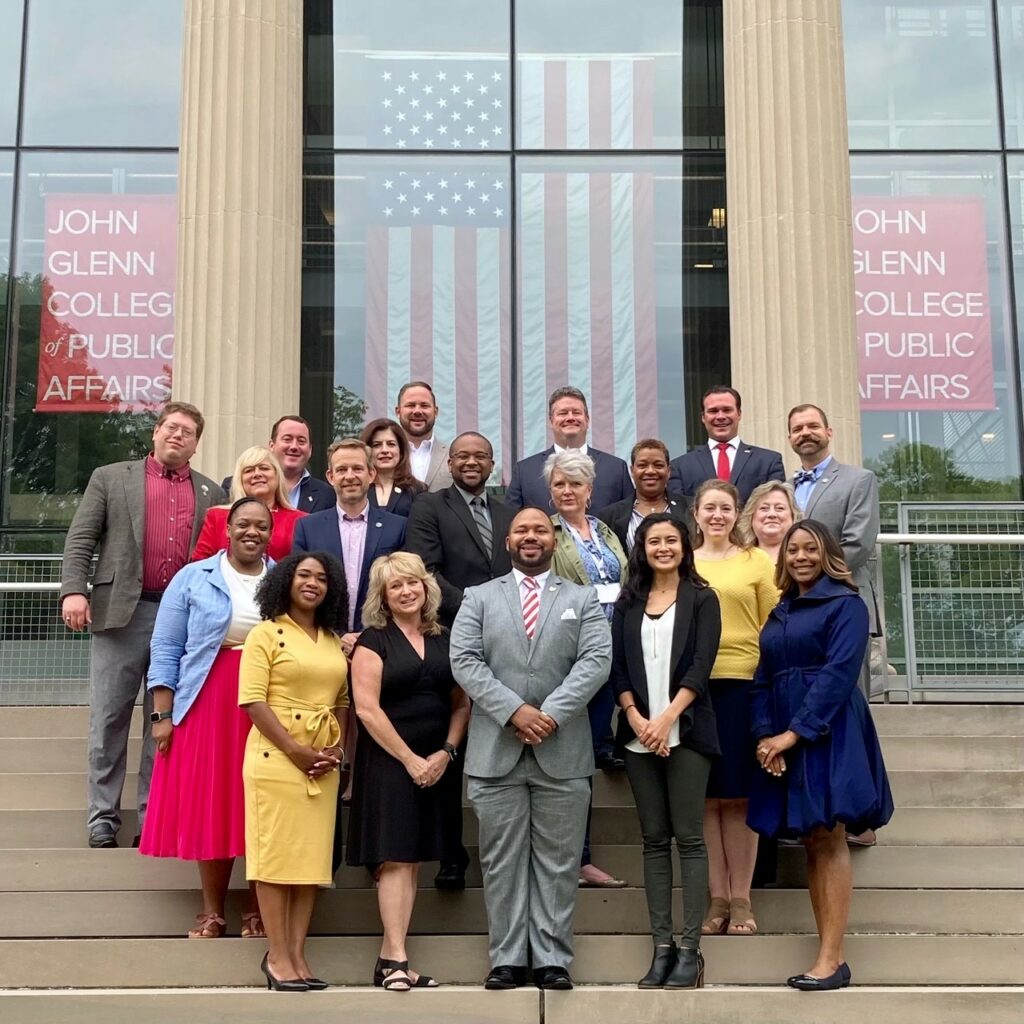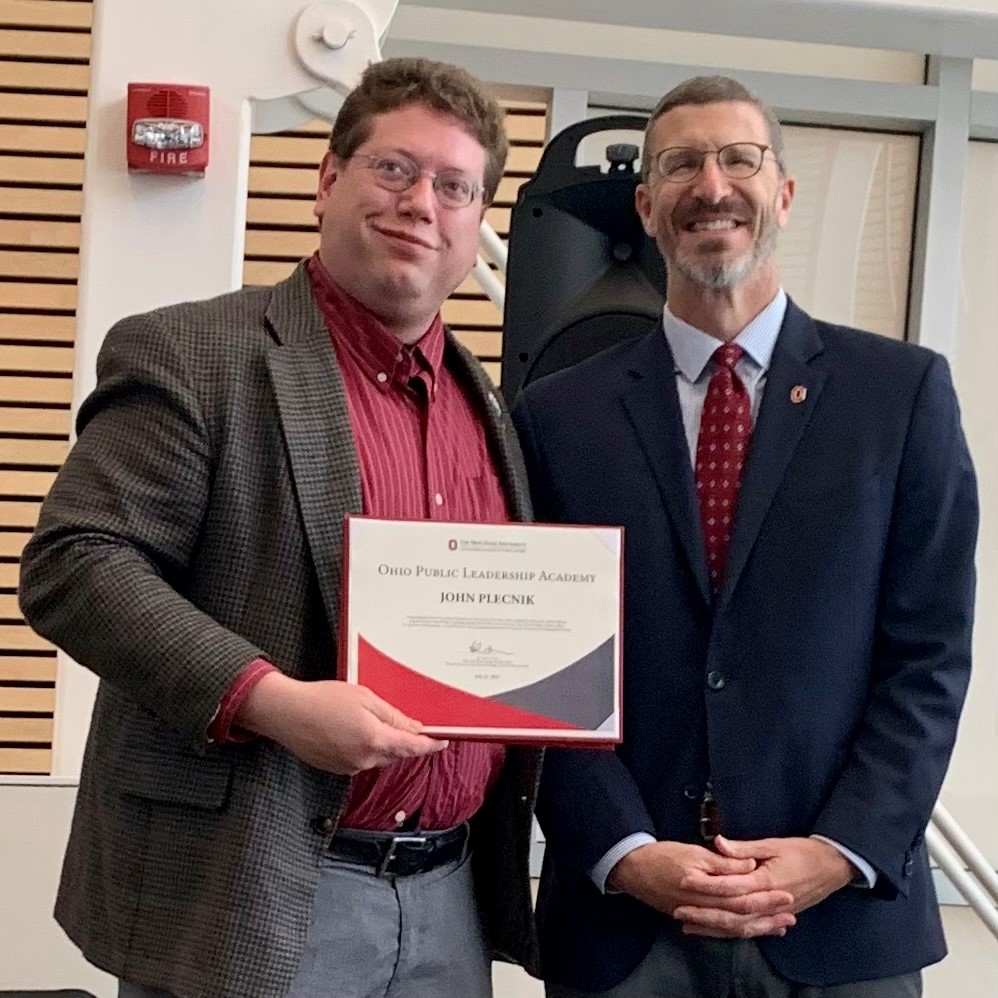 UNANIMOUS SUPPORT FOR NEW JAIL BY LAKE COUNTY LOCAL CORRECTIONS PLANNING
June 30, 2021 — The members of the Lake County Local Corrections Planning Board (Corrections Board) in attendance voted unanimously to support the Sheriff and Board of Commissioners initiative to construct a new Jail and Public Safety Center in Painesville, Ohio. The Corrections Board is chaired by Chief Probation Officer Craig Berry and is comprised of elected officials and agency directors from the county courts, municipal courts, adult probation, local law enforcement, mental health, and community correction agencies. The Ohio Revised Code requires each County in the State of Ohio to form a Local Community Correction Planning Board to establish a comprehensive plan for corrections and its implementation.
Sheriff Frank Leonbruno, Commissioner John Hamercheck, and Commissioner John Plecnik provided the Board an update on the current status of the existing jail and long-term concerns with capacity, physical condition and operational challenges. Opened in 1990, the current jail averages approximately 360 Lake County Court inmates per day. "The current facility was obsolete from the day it opened and the County is now faced with the challenge of providing the proper facilities for Sheriff's Office that meets our current and future needs," said Commissioner John Hamercheck.
Lake County Court of Common Pleas Judge Vince Culotta made the motion "to support the recommendation of Sheriff Leonbruno to the Lake County Commissioners to construct a new jail." His motion was seconded by Painesville Municipal Court Judge Paul Malchesky who added: "the need for the proposed jail facility that includes expanded services for mental health and drug/alcohol treatment is vital to keep Lake County safe."
"First and foremost, Lake County stands with law enforcement, and I am so grateful for the leadership of our judges and community leaders on the Corrections Board," said Commissioner John Plecnik. "My vote in favor of constructing a new public safety facility to house the Jail and Sheriff's Office is a vote in favor of law and order, in favor of expanding services for those suffering from mental illness and addiction, and for fiscal responsibility. Over the long-term, the construction of a new facility, as opposed to putting a band-aid on the old jail and kicking the can down the road, is the most affordable option for the taxpayer. Our best estimate to date is the annualized cost of a new jail is less than half the cost of rehab. We can't afford to spend $50 million to $70 million to extend the life of a dilapidated building for only 10 years or so when we could invest $70 million to $100 million in a modern facility with a useful life of 50 to 60 years."
Previous studies completed in 2014 and 2019 indicate significant renovations are needed for the current facility which is also at capacity. As Sheriff Frank Leonbruno explained, "Since 1990 we have experienced a 250% growth in our jail population. Additionally, we need to address ADA compliance issues, flexible programming space deficiency, intake deficiency, and mental health treatment for nearly 70% of the jail population. The modern design can provide remote
access areas for court arraignments and other hearings for both municipal and courts of common of pleas. It will reduce law enforcement transports throughout the county, which keeps more municipal officers patrolling in their communities. After significant evaluation, based on experiential data, as well as two major studies on the current jail facility over the past five years, Lake County must begin the process of building a new adult detention facility."
The Corrections Board also oversees the needs of correction services for the County. The Board puts extensive time studying the needs of the correction system to include the needs of the offender population, this may include the capacity to deliver services and programs to offenders either in custody or on community control.
Commissioners and Workforce Development Board Appoint Director of Workforce Development
The Lake County Board of Commissioners and the Workforce Development Board announced on June 24, 2021, that they have selected Cory Vojack as the new Director of Workforce Development to begin July 19, 2021. Vojack has been employed at United Labor Agency since 2017 working with Lake County on employment services and recruiting to connect local job seekers with positions for Lake County companies. He holds a Bachelors's Degree in Communication from Ohio University and is certified as a Six Sigma White Belt.
Vojack has worked in his current role on workforce-related projects in Lake County and is excited about the opportunity. "I am looking forward to working with the Commissioners and am honored that they have selected me for this role. I am passionate about workforce development and helping people, and I can't wait to share that passion with the job seekers and employers of Lake County." Robert Dawson, of Middlefield Bank and the Chairman of the Lake County Workforce Development Board, said of Vojack, "he brings significant experience to the role previously serving in a supervisory position for one of our key program vendors. Cory has strong ties to the local business community through that service and brings a passion for the cause of developing our local workforce. It is my belief that the combination of his experience and passion is exactly the right fit for continuing the momentum within our workforce region."

"I think that the County will really benefit from having Cory in this position," Commissioner John Hamercheck said. "He is well respected in the community and his passion for workforce development evident during his interview." Commissioner John Plecnik echoed those thoughts. "I am excited to work with Cory, and I know he will be a great addition to our Team. The key for Lake County to emerge as the place to be for citizens and businesses is economic development and specifically workforce development, and Cory is going to be a big part of that." Commissioner Ron Young added, "Cory will continue to advocate for strong relationships with our community partners to help the next generation of the Lake County workforce succeed. We are stronger if we are all working in the same direction."
Lake County Commissioners Announce High School Tech Internship Pilot Program
The Lake County Board of Commissioners is excited to announce our partnership with the Governor's Office of Workforce Transformation to participate in the High School Tech Internship Pilot Program. The State is encouraging businesses to hire high school students or recent graduates to tech internships while, also, providing partial reimbursement of the costs for employers. "Partnering with the Governor's Workforce Team and Auburn Career Center to host these interns over the summer shows the commitment of Lake County to collaborate in the expansion and enrichment of our local workforce," stated Commissioner John Hamercheck. In the pilot program, Auburn Career Center and a dozen other pilot sites will place a total of 100 interns over the summer. "Workforce development starts at home, and incentivizing our local, brilliant, students to intern here and potentially take jobs here is the foundation of moving Lake County out of the pandemic and into a stage of further economic growth," stated Commissioner John Plecnik. Commissioner Ron Young applauded the efforts of all organizations involved in the Pilot Program. "We are very proud of the work our Auburn Career Center has done to bring this opportunity to participate in the Pilot Program to Lake County. The partnership will only strengthen our economy and retain our home-grown talent to our workforce where we not only have great jobs but affordable housing and amenities that are second to none."
The Lake County Telecommunications Department will host the interns over the summer focusing their work, alongside County Technicians, on IP-based cameras, card reader systems, telephones, radios, and security systems. "I applaud the Lake County Commissioners in their decision to hire these two young men and will do my best to help them learn while they work for Lake County. I, also, would like to recognize Brian Bontempo, Superintendent, and Michelle Rodewald, Director of Adult Workforce, at Auburn Career Center for their efforts to continue to lead Ohio in educating our young adults and preparing them for the workforce," stated Paul Stefanko, Director of the Lake County Telecommunications Department.
Criminal Justice Community Engagement and Outreach Program Announced
Lake County Commissioners today approved funding for a new Criminal Justice Community Engagement and Outreach Program administered through the Lake County Public Defender's office. Funding for the program comes due to the work of Lake County Clerk of Court Faith Andrews and her staff in generating excess title funds for the county's general fund.
The new program is designed to increase community involvement in the criminal justice system and assist individuals who have been in jail to return to their communities to live productive, crime-free lives. The genesis for this program was a collaborative effort between the late Bishop Roderick Coffee and Commissioner President John Hamercheck. Bishop Coffee, a well-known and respected senior pastor of the Union Community Church in Concord Township, was passionately committed to community involvement in the criminal justice system and was one of the original members of Begin the Conversation, a group of community leaders that formed almost seven years ago to address race relations and justice in Lake County. As part of his work with this group, Bishop Coffee raised the idea of the creation of a community-liaison-type program that would benefit the local community.
Please click here to view the entire press release.
Lake County Launches Program To Assist with Rent and Utilities For Renters and Landlords Impacted by COVID-19
Earlier this year the Lake County Board of Commissioners accepted an allocation of $6.8 M made available as a part of the Consolidated Appropriations Act of 2021. The United States Department of Treasury is administering the Emergency Rental Assistance Program (ERAP) and today the Commissioners entered into an agreement with partner agencies to get those funds where they are needed most.
Funds can be used in a variety of ways to help landlords and tenants maintain stability, maintain utility connections and prevent eviction. Eligible costs under the grant include rental arrears, current rent, future rent in three-month qualifying periods, and the cost of major utilities, case management, and administration. Program guidelines are based on detailed guidance that has been issued by the Treasury over a sequence of FAQs that can be viewed online.
Please click here to view the entire press release.
Lake County Commissioners Recognize Volunteer Heroes
On Thursday, June 17, 2021 the Board of Lake County Commissioners recognized two volunteer heroes for their exceptional service to Lake County. Both Don Berlin and Deborah Hahn were presented with a Certificate of Recognition during the meeting.
"The Board of Lake County Commissioners is honored to recognize both Don and Deborah for their dedication to serving others during the pandemic," said Commissioner John Hamercheck, president of the Board of Lake County Commissioners. "They volunteered without hesitation to benefit those in need."
Don Berlin volunteered at several food distributions, including the Lake County Mobile Food Pantry beginning in May 2020 and continues today. Don also assisted at the Lake County General Health District COVID vaccine hotline for several months assisting seniors to register for an appointment. Don is also an active Meals on Wheels and Northeast Ohio Drug Repository volunteer.
Deborah Hahn is a regular volunteer for the Vineyard Food Pantry in Wickliffe. During the pandemic, she continued to volunteer each week preparing the food pantry for the weekly distribution. Deborah does not drive and took Laketran to and from the food pantry, to provide food to those in need.
"We are fortunate to have such dedicated volunteers providing much-needed services throughout Lake County during the pandemic," said Commissioner John Plecnik. "They are both deserving of this recognition for their hard work in providing essential services."
Commissioner Ron Young added, "It is individuals like these two volunteers that inspire us all to assist others. They are a true testament to the generosity of the human spirit."
The Lake County Volunteer Network assists individuals interested in volunteering by finding a meaningful volunteer assignment. For more information on volunteering in Lake County contact Volunteer Services Coordinator, Cristen Kane, at 440-350-5360 or email [email protected]
Lake County Commissioners Recognize World Elder Abuse Awareness Day – June 15, 2021
June 15, 2021, is World Elder Abuse Awareness Day here in Lake County and across our country. It is the time of year when cities and states can take a moment to shed light on this significant issue. "This is an opportunity for Lake County to promote a better understanding of abuse and neglect of older persons and raise awareness of elder abuse ensuring security and dignity for all seniors," said Commissioner John R. Hamercheck, president of the Board of Lake County Commissioners.
Elder abuse is widespread. Every year an estimated 1 in 10 older Americans are victims of elder abuse, neglect, or exploitation. And that's only part of the picture: Experts believe that elder abuse is significantly under-reported, in part because so many of our communities lack the social supports that would make it easier for those who experience abuse to report it. Research suggests that as few as 1 in 14 cases of elder abuse come to the attention of authorities. "Lake County is not immune to the issue of elder abuse," said Commissioner John Plecnik. "When we come together, we can prevent elder abuse from happening. We can put support services in place, and direct the necessary community resources."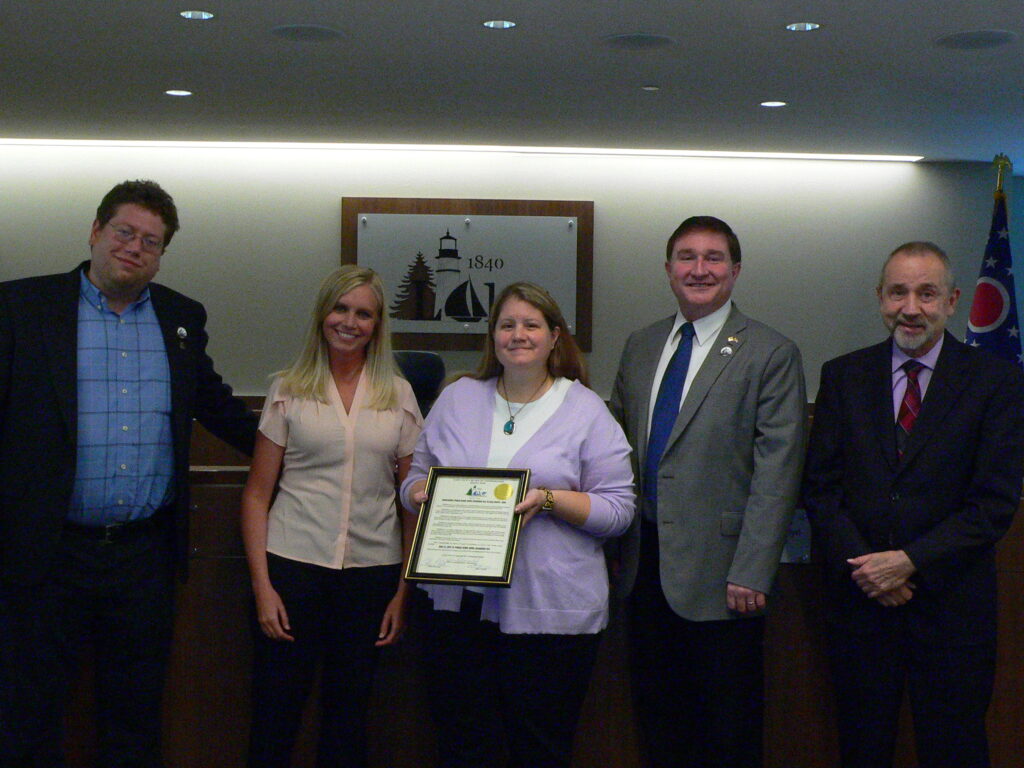 County Leaders Attend Voting Equipment Demonstration
The Lake County Board of Election Demonstrated a proposed voting system offered by Election Systems and Software (ES&S) to the Board of County Commissioners at the April 29th meeting. The Board of Elections have been researching and evaluating options for three years. Most recently they have conducted a week-long mock election, attended pubic demonstrations, solicited input from local stakeholders, and received suggestions from precinct election officials to ensure all concerns and input is considered.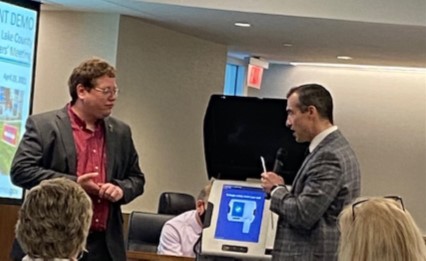 Commissioners Commend Clean and Green Poster Contest Winners on April 29, 2021
Lake County's Solid Waste District is pleased to announce the winners of their annual Clean and Green Logo Contest. Area students were encouraged to design a logo showcasing the theme "Clean and Green Lake County" which promotes recycling and anti-littering education. The Lake County Solid Waste District oversees the Landfill and Recycling Center in Painesville Township.
Julia Franz, a fourth-grade student at South Elementary School in the Madison Local School District, won the elementary division and the overall prize for her design entry themed, "Keep Lake County Clean & Green." As the top winner, Julia's design will be displayed in the Lake County Commissioner's area in the County Administration Building located in downtown Painesville. Additionally, her design will be used for marketing materials for the Solid Waste District and the Utilities Department.
Other winners were Middle School Division Winner, Jessica Gajendran from Willoughby Middle School, and High School Division Winner, Erin Panchula from North High School.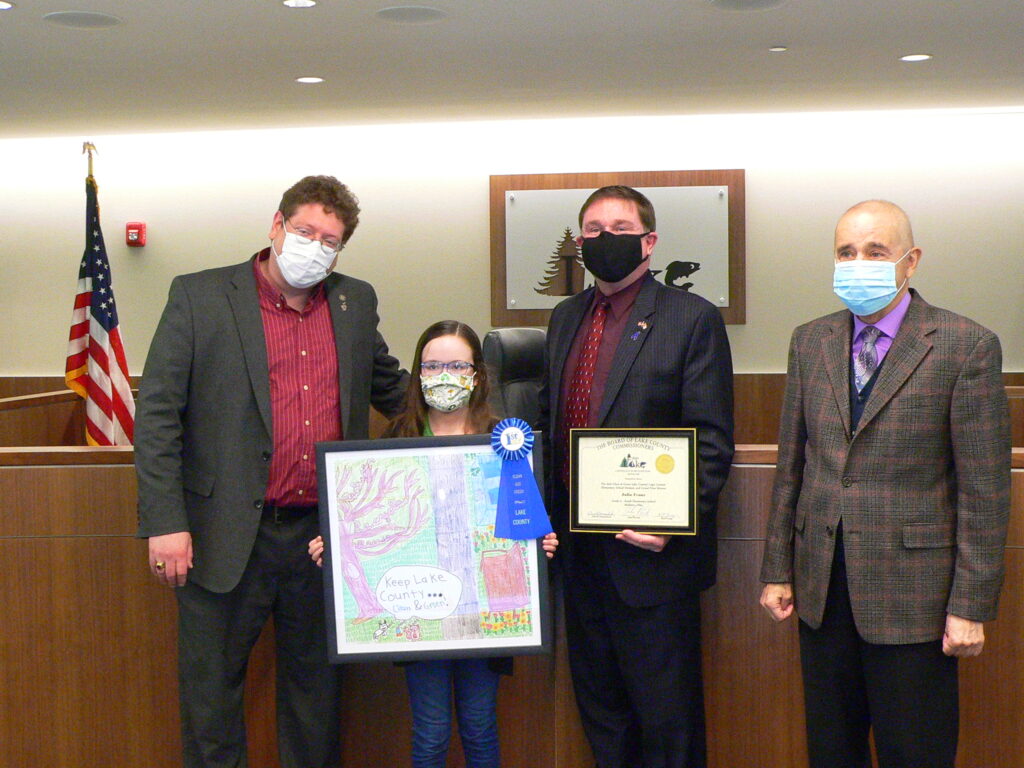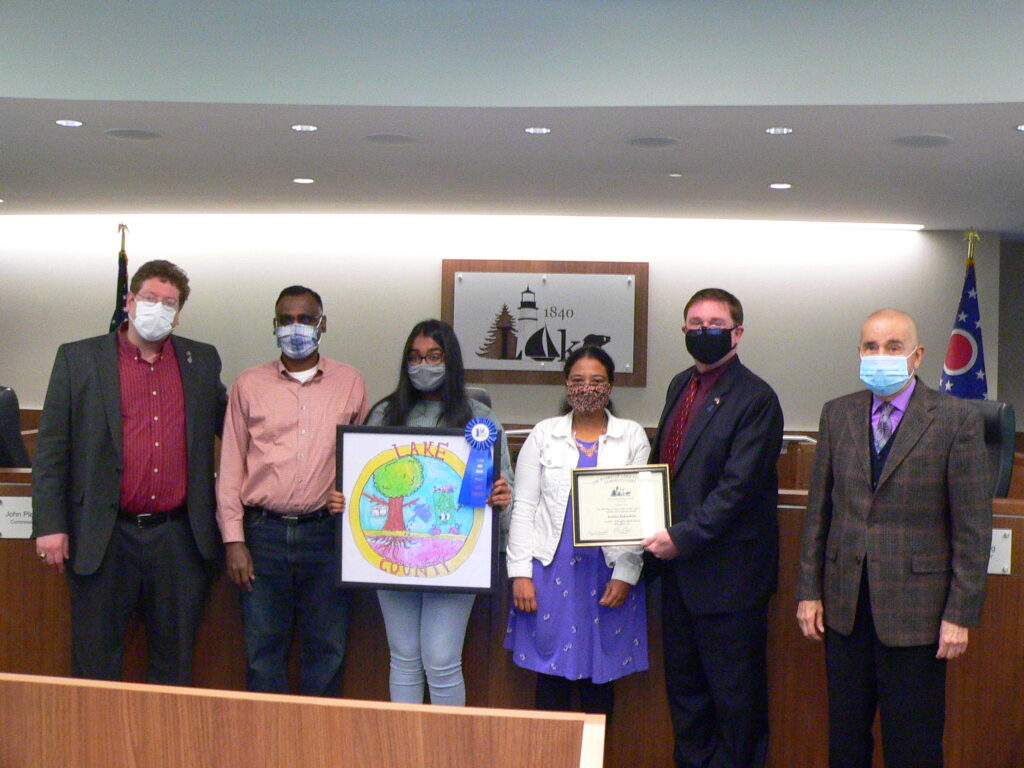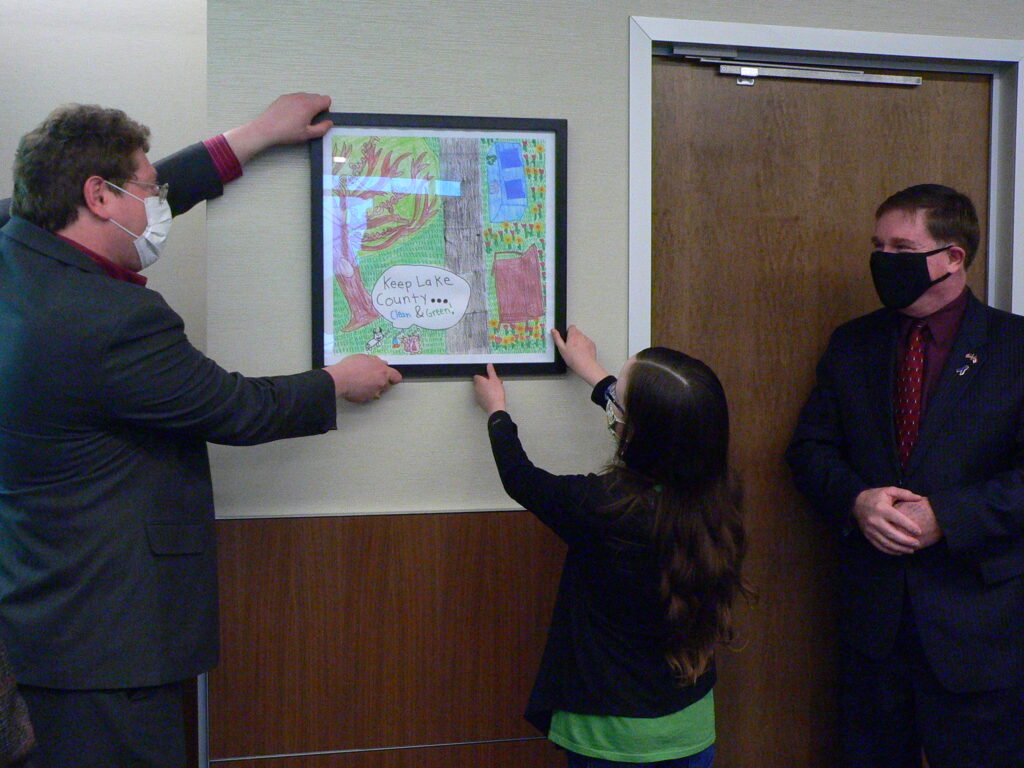 Commissioners Recognize May as National Foster Parent Appreciation Month
The Lake County Board of Commissioners presented a resolution to Gene Tetrick, Supervisor, Substitute Care Unit, Assistant Administrator Foster Care Adoption, Suzanne Casar, and Matthew Battiato, of the Lake County Department of Job and Family Services.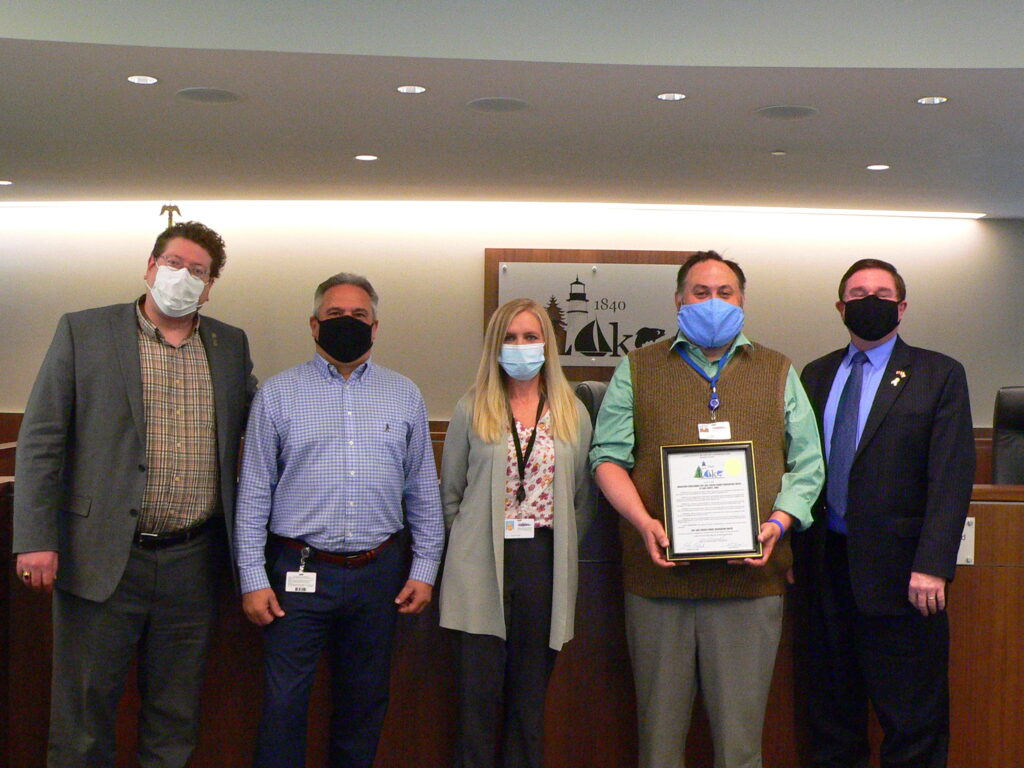 May is recognized nationally as Foster Parent Appreciation Month. The Lake County Department of Job and Family Services is proud to recognize and express appreciation for the 48 licensed foster homes in our county. The Board of County Commissioners officially recognized May 2021 as Foster Parent Appreciation Month at the April 22nd Board meeting. "Not only today, but every day, we must come together as a community to recognize the important role foster parents play by providing safe and stable homes for children and youth in need," said Commissioner President John R. Hamercheck. Read the resolution here…
Commissioners Declare April 15 through May 31, 2021 Clean and Green Lake County
The Board of Lake County Commissioners proclaimed April 15 through May 31, 2021 CLEAN AND GREEN LAKE COUNTY, which includes EARTH DAY on April 22, to encourage the youth and adults in the community, schools, businesses, agencies, and civic organizations to identify areas in their neighborhoods in need of attention and to undertake clean-up activities. During the April 22nd Commissioners Meeting they presented a resolution to David Schick, Public Service Coordinator. Read the resolution here…
Lake County Department of Utilities, and Mr. Randy Rothlisberger, Lake County Sanitary Engineer.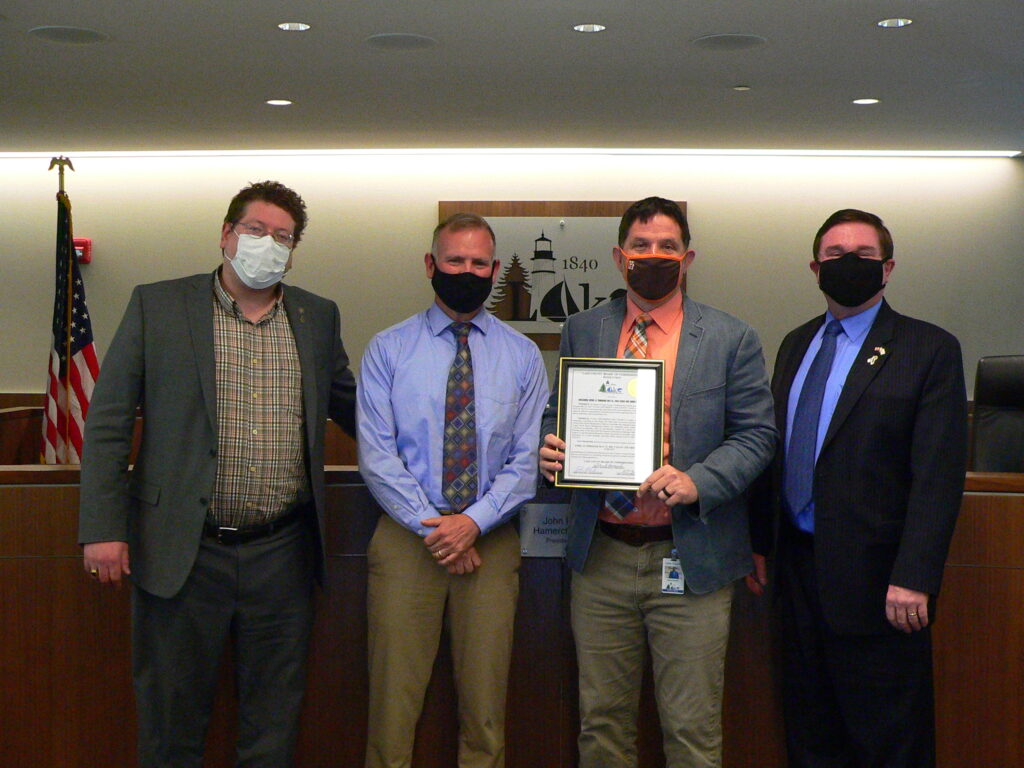 CLEAN AND GREEN LAKE/ COUNTY is widely supported in our community, including by this Board, the Ohio State University Extension, and the Lake County Solid Waste Management District, to facilitate this important operation. The Lake County Solid Waste Management District has scheduled newly expanded Electronics Collections on Saturday, April 24 and Saturday, August 14, a Scrap Tire Collection on Saturday, May 1, Television and CRT Monitor Collections on Saturday, May 8 and Saturday, August 14, and Household Hazardous Waste Collections on Saturday, June 5 and Saturday, September 25, to assist residents with their efforts during CLEAN AND GREEN LAKE COUNTY.
Click here to see the Clean and Green Winners…
Lake County Announces Scholarship Program
The Board of Lake County Commissioners, with support from the Clerk of Courts, announced the Lake County Emergency Services Telecommunicators Scholarship at the March 25, 2021 board meeting. The program will be offered to qualifying students who are enrolled in Auburn Career Center's Emergency Services Telecommunicators Program.
"The Board of Commissioners provided funding in 2020 and have been looking to establish a scholarship program to grow enrollment. The Board of Commissioners have enjoyed a great relationship with Clerk of Courts Faith Andrews. When she was made aware of the initiative, she had no hesitation to provide assistance in this very important public safety need," said Commission President John Hamercheck.
The program is designed to give students the requirements and references needed to obtain the job skills for necessary employment as an Emergency Service Telecommunicator (EST). EST are public safety dispatchers or 911 operators whose duties and responsibilities include answering, receiving, transferring, and dispatching functions related to 911 calls; dispatching law enforcement officers, fire rescue services, emergency medical services, and other public safety services to the scene of an emergency; providing real-time information from federal, state, and local crime databases; and supervising or serving as the command officer to a person or persons having such duties and responsibilities.
"This will be a premier program in Ohio and I am grateful to the Clerk of Courts for funding this very important effort. Today's announcements will provide a qualified talent base for local dispatch centers, including Lake County Central Dispatch," said Commissioner John Plecnik.
Society and communications are becoming increasingly more mobile and accessible. With that mobility, the ability to access 9-1-1 services at any time and in any place has become a constant, and the need for consistent minimum training for the telecommunicator has been recognized by the 9-1-1 community. The program is for people who are searching for a career that is Covid proof, helps their community and also helps local law enforcement.
"Lake County has once again shown the strength of community partnerships. Thanks to Auburn Career Center, Clerk of Courts Faith Andrews and the Sheriff's Office for their vision to bring this program to fruition," noted Commissioner Ron Young.
"Auburn Career Center is excited to have the support of the Lake County Commissioners as well as the Clerk of Courts for our new Emergency Services Telecommunicator program. With this generous donation, we will be able to assist candidates with their tuition for this class. The new program meets the needs of the surrounding communities by providing a consistent and comprehensive training program for new telecommunicator dispatchers," said Michelle Rodewald of Auburn Career Center.
Noted Clerk Faith Andrews, "I am thrilled to be able to provide $20,000 in seed funding to support the scholarship program. The seed money comes from Title surplus because of the hard work of my dedicated staff."
The program includes an internship component that will give students opportunities to shadow and receive hands-on training. Students will have many job opportunities as a result of taking this program. There is a shortage of local dispatchers and already communities are calling Auburn and asking for students.
Auburn looks forward to continuing to meet the needs of the local business community by offering in-demand career training. The next class starts soon! If you are interested in learning more, contact the Adult Workforce office at Auburn Career Center or visit the website at www.auburncc.org.
Click here to view the PDF version.
---
Lake County Commissioner John Plecnik administers the oath of office to newly appointed North Perry Village Councilperson Derek S. Foley prior to the Village Council Meeting on March 18, 2021.
---
Fraudulent Unemployment Claims Affect Citizens in Lake County
Many individuals throughout the State of Ohio have been victims of unemployment fraud throughout the past few months. Lake County Department of Job and Family Services Director Matthew Battiato shared that "this is a problem statewide and is affecting many individuals in Lake County. While the Lake County Department of Job and Family Services cannot assist with fraudulent unemployment claims, we are providing members of the public with information on how they can report these concerns to the State." One way victims have been discovering identity theft is by receiving an IRS 1099-G form for unemployment benefits that were never received.
"The Commissioners Office understands the frustration of our residents. We have been in contact with our colleagues in Columbus to ensure protective measures are being taken to prevent future fraudulent activities," said Commissioner John Hamercheck.
Unemployment benefits are issued by the State and the Lake County Department of Job and Family Services does not have jurisdiction to assist with fraudulent unemployment claims. Fraudulent unemployment claims must be reported directly to the State by contacting the Ohio Department of Job and Family Services.
The Ohio Department of Job and Family Services (ODJFS) has established a toll-free number for individuals to notify the agency if they believe their personal information was compromised and used to file a fraudulent unemployment claim: (833) 658-0394. This number is staffed by 50 dedicated, cross-trained customer service representatives, 8 a.m. to 5 p.m. Monday through Friday.
The phone number complements a secure online portal ODJFS established in January 2021 to provide a direct way for victims to report identity theft. Individuals who believe their identity was stolen and used to file a fraudulent unemployment claim can visit unemployment.ohio.gov, click on the "Report Identity Theft" button and follow the guidance for individuals.
Please click here to view the entire news release.
---
Commission President John Hamercheck Named to Agency Boards
Lake County Commissioner John R. Hamercheck was recently named the First Vice President of the Northeast Ohio Areawide Coordinating Agency (NOACA) and appointed to the Board of Directors for the County Commissioners Association of Ohio (CCAO).
NOACA is the transportation and planning agency that represents Lake, Cuyahoga, Geauga, Lorain and Medina counties. In addition to significant input on multiple public policies that impact Lake County, NOACA is also a significant funding agency for transportation projects and long-term community planning initiatives. "Participation on regional boards are important, but my role as First Vice-President will allow me to strategically align Lake County's projects with future state and federal funding opportunities. Lake County has made significant investment in our road infrastructure over the past 3 years and this role on NOACA will help further this strategy," noted Commissioner Hamercheck.