Skip to Resources Section
PRESS RELEASE
County Leaders Attend Voting Equipment Demonstration
The Lake County Board of Election Demonstrated a proposed voting system offered by Election Systems and Software (ES&S) to the Board of County Commissioners at the April 29th meeting. The Board of Elections have been researching and evaluating options for three years. Most recently they have conducted a week-long mock election, attended pubic demonstrations, solicited input from local stakeholders, and received suggestions from precinct election officials to ensure all concerns and input is considered.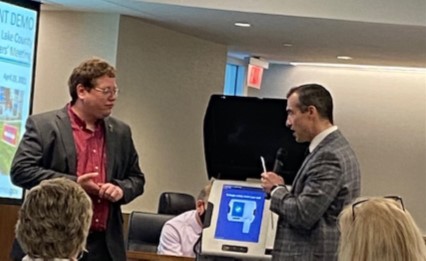 Commissioners Commend Clean and Green Poster Contest Winners on April 29, 2021
Lake County's Solid Waste District is pleased to announce the winners of their annual Clean and Green Logo Contest. Area students were encouraged to design a logo showcasing the theme "Clean and Green Lake County" which promotes recycling and anti-littering education. The Lake County Solid Waste District oversees the Landfill and Recycling Center in Painesville Township.
Julia Franz, a fourth-grade student at South Elementary School in the Madison Local School District, won the elementary division and the overall prize for her design entry themed, "Keep Lake County Clean & Green." As the top winner, Julia's design will be displayed in the Lake County Commissioner's area in the County Administration Building located in downtown Painesville. Additionally, her design will be used for marketing materials for the Solid Waste District and the Utilities Department.
Other winners were Middle School Division Winner, Jessica Gajendran from Willoughby Middle School, and High School Division Winner, Erin Panchula from North High School.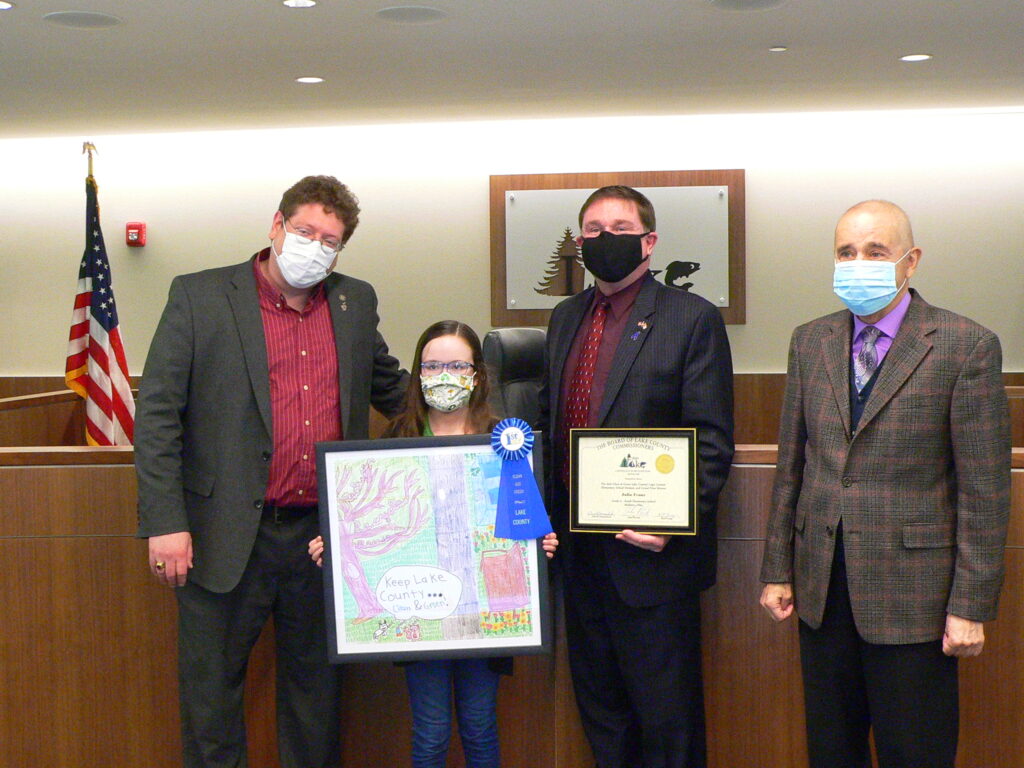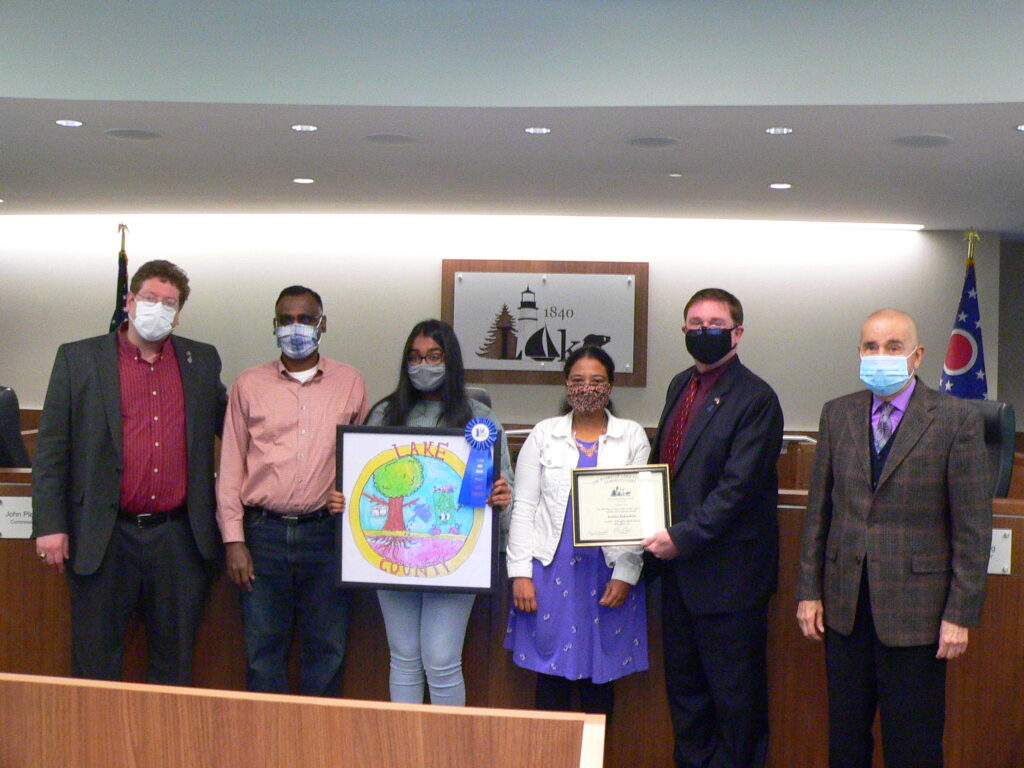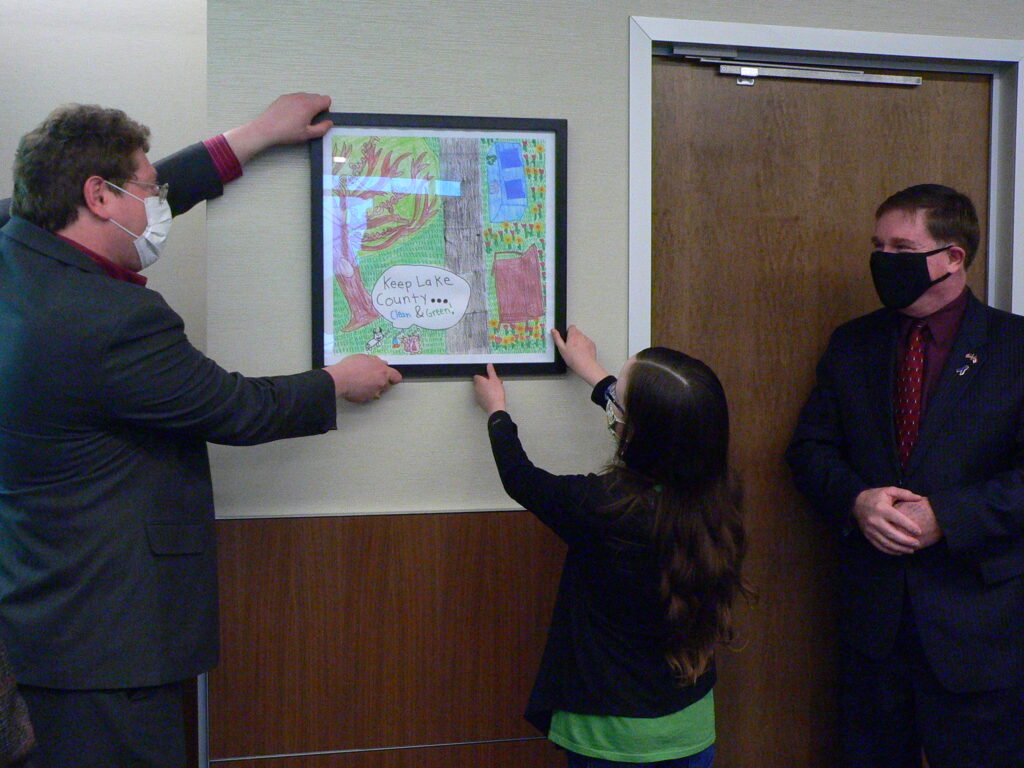 Commissioners Recognize May as National Foster Parent Appreciation Month
The Lake County Board of Commissioners presented a resolution to Gene Tetrick, Supervisor, Substitute Care Unit, Assistant Administrator Foster Care Adoption, Suzanne Casar, and Matthew Battiato, of the Lake County Department of Job and Family Services.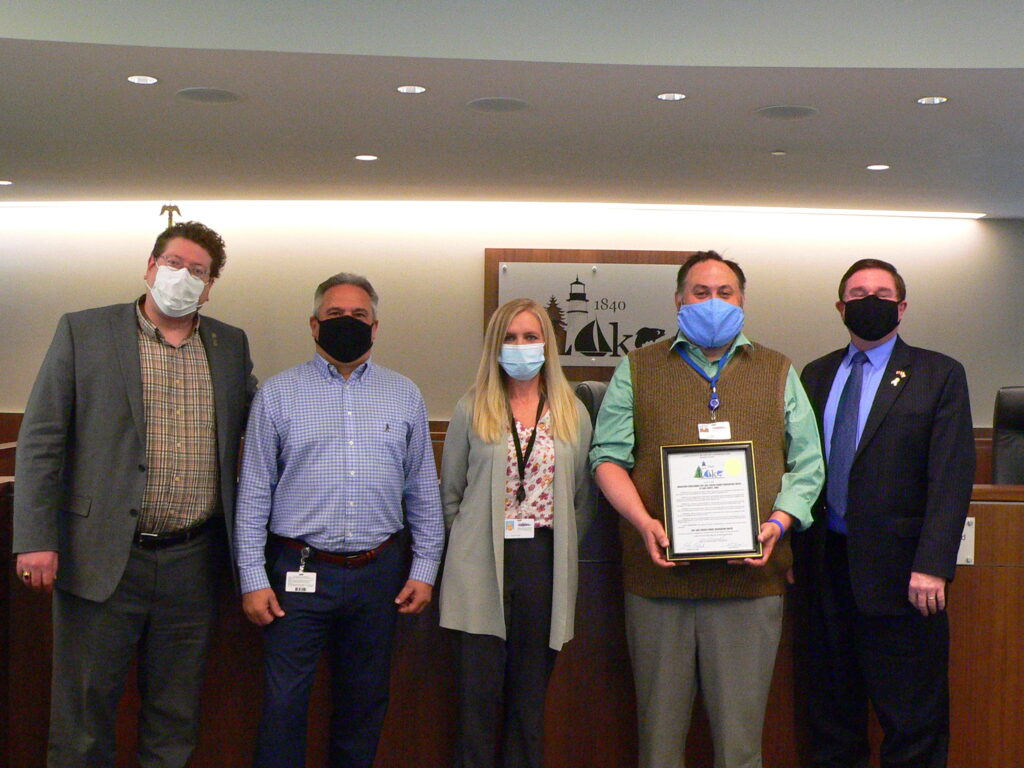 May is recognized nationally as Foster Parent Appreciation Month. The Lake County Department of Job and Family Services is proud to recognize and express appreciation for the 48 licensed foster homes in our county. The Board of County Commissioners officially recognized May 2021 as Foster Parent Appreciation Month at the April 22nd Board meeting. "Not only today, but every day, we must come together as a community to recognize the important role foster parents play by providing safe and stable homes for children and youth in need," said Commissioner President John R. Hamercheck. Read the resolution here…
Commissioners Declare April 15 through May 31, 2021 Clean and Green Lake County
The Board of Lake County Commissioners proclaimed April 15 through May 31, 2021 CLEAN AND GREEN LAKE COUNTY, which includes EARTH DAY on April 22, to encourage the youth and adults in the community, schools, businesses, agencies, and civic organizations to identify areas in their neighborhoods in need of attention and to undertake clean-up activities. During the April 22nd Commissioners Meeting they presented a resolution to David Schick, Public Service Coordinator. Read the resolution here…
Lake County Department of Utilities, and Mr. Randy Rothlisberger, Lake County Sanitary Engineer.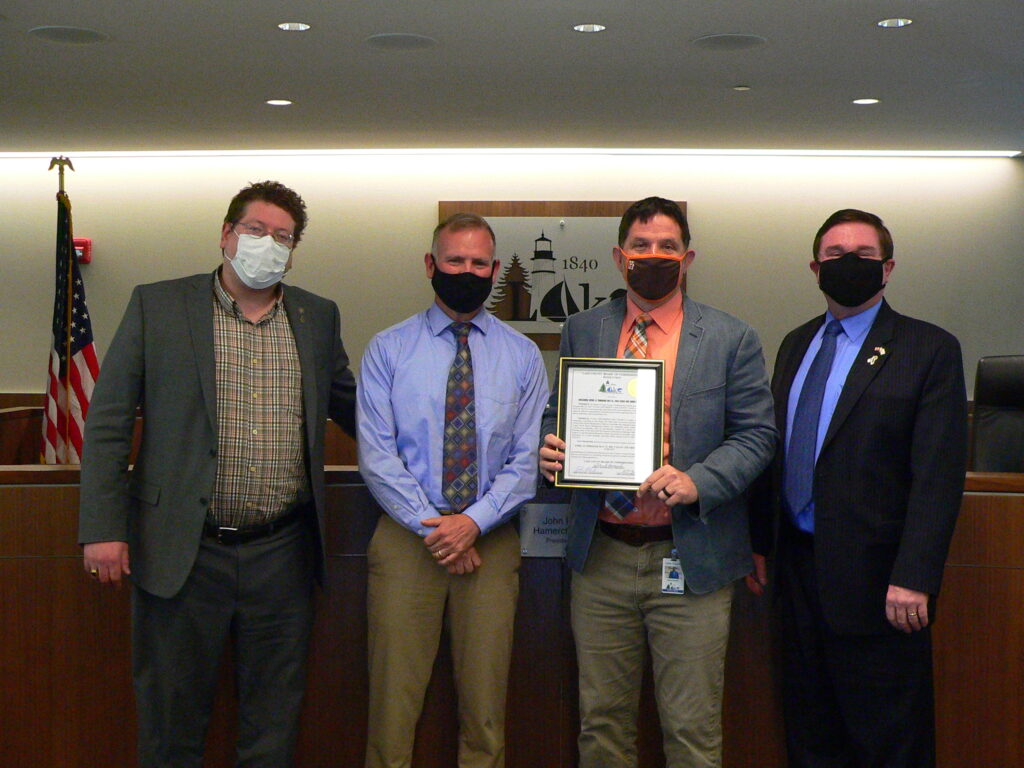 CLEAN AND GREEN LAKE/ COUNTY is widely supported in our community, including by this Board, the Ohio State University Extension, and the Lake County Solid Waste Management District, to facilitate this important operation. The Lake County Solid Waste Management District has scheduled newly expanded Electronics Collections on Saturday, April 24 and Saturday, August 14, a Scrap Tire Collection on Saturday, May 1, Television and CRT Monitor Collections on Saturday, May 8 and Saturday, August 14, and Household Hazardous Waste Collections on Saturday, June 5 and Saturday, September 25, to assist residents with their efforts during CLEAN AND GREEN LAKE COUNTY.
Click here to see the Clean and Green Winners…
Lake County Announces Scholarship Program
The Board of Lake County Commissioners, with support from the Clerk of Courts, announced the Lake County Emergency Services Telecommunicators Scholarship at the March 25, 2021 board meeting. The program will be offered to qualifying students who are enrolled in Auburn Career Center's Emergency Services Telecommunicators Program.
"The Board of Commissioners provided funding in 2020 and have been looking to establish a scholarship program to grow enrollment. The Board of Commissioners have enjoyed a great relationship with Clerk of Courts Faith Andrews. When she was made aware of the initiative, she had no hesitation to provide assistance in this very important public safety need," said Commission President John Hamercheck.
The program is designed to give students the requirements and references needed to obtain the job skills for necessary employment as an Emergency Service Telecommunicator (EST). EST are public safety dispatchers or 911 operators whose duties and responsibilities include answering, receiving, transferring, and dispatching functions related to 911 calls; dispatching law enforcement officers, fire rescue services, emergency medical services, and other public safety services to the scene of an emergency; providing real-time information from federal, state, and local crime databases; and supervising or serving as the command officer to a person or persons having such duties and responsibilities.
"This will be a premier program in Ohio and I am grateful to the Clerk of Courts for funding this very important effort. Today's announcements will provide a qualified talent base for local dispatch centers, including Lake County Central Dispatch," said Commissioner John Plecnik.
Society and communications are becoming increasingly more mobile and accessible. With that mobility, the ability to access 9-1-1 services at any time and in any place has become a constant, and the need for consistent minimum training for the telecommunicator has been recognized by the 9-1-1 community. The program is for people who are searching for a career that is Covid proof, helps their community and also helps local law enforcement.
"Lake County has once again shown the strength of community partnerships. Thanks to Auburn Career Center, Clerk of Courts Faith Andrews and the Sheriff's Office for their vision to bring this program to fruition," noted Commissioner Ron Young.
"Auburn Career Center is excited to have the support of the Lake County Commissioners as well as the Clerk of Courts for our new Emergency Services Telecommunicator program. With this generous donation, we will be able to assist candidates with their tuition for this class. The new program meets the needs of the surrounding communities by providing a consistent and comprehensive training program for new telecommunicator dispatchers," said Michelle Rodewald of Auburn Career Center.
Noted Clerk Faith Andrews, "I am thrilled to be able to provide $20,000 in seed funding to support the scholarship program. The seed money comes from Title surplus because of the hard work of my dedicated staff."
The program includes an internship component that will give students opportunities to shadow and receive hands-on training. Students will have many job opportunities as a result of taking this program. There is a shortage of local dispatchers and already communities are calling Auburn and asking for students.
Auburn looks forward to continuing to meet the needs of the local business community by offering in-demand career training. The next class starts soon! If you are interested in learning more, contact the Adult Workforce office at Auburn Career Center or visit the website at www.auburncc.org.
Click here to view the PDF version.
---
Lake County Commissioner John Plecnik administers the oath of office to newly appointed North Perry Village Councilperson Derek S. Foley prior to the Village Council Meeting on March 18, 2021.
---
Fraudulent Unemployment Claims Affect Citizens in Lake County
Many individuals throughout the State of Ohio have been victims of unemployment fraud throughout the past few months. Lake County Department of Job and Family Services Director Matthew Battiato shared that "this is a problem statewide and is affecting many individuals in Lake County. While the Lake County Department of Job and Family Services cannot assist with fraudulent unemployment claims, we are providing members of the public with information on how they can report these concerns to the State." One way victims have been discovering identity theft is by receiving an IRS 1099-G form for unemployment benefits that were never received.
"The Commissioners Office understands the frustration of our residents. We have been in contact with our colleagues in Columbus to ensure protective measures are being taken to prevent future fraudulent activities," said Commissioner John Hamercheck.
Unemployment benefits are issued by the State and the Lake County Department of Job and Family Services does not have jurisdiction to assist with fraudulent unemployment claims. Fraudulent unemployment claims must be reported directly to the State by contacting the Ohio Department of Job and Family Services.
The Ohio Department of Job and Family Services (ODJFS) has established a toll-free number for individuals to notify the agency if they believe their personal information was compromised and used to file a fraudulent unemployment claim: (833) 658-0394. This number is staffed by 50 dedicated, cross-trained customer service representatives, 8 a.m. to 5 p.m. Monday through Friday.
The phone number complements a secure online portal ODJFS established in January 2021 to provide a direct way for victims to report identity theft. Individuals who believe their identity was stolen and used to file a fraudulent unemployment claim can visit unemployment.ohio.gov, click on the "Report Identity Theft" button and follow the guidance for individuals.
Please click here to view the entire news release.
---
Commission President John Hamercheck Named to Agency Boards
Lake County Commissioner John R. Hamercheck was recently named the First Vice President of the Northeast Ohio Areawide Coordinating Agency (NOACA) and appointed to the Board of Directors for the County Commissioners Association of Ohio (CCAO).
NOACA is the transportation and planning agency that represents Lake, Cuyahoga, Geauga, Lorain and Medina counties. In addition to significant input on multiple public policies that impact Lake County, NOACA is also a significant funding agency for transportation projects and long-term community planning initiatives. "Participation on regional boards are important, but my role as First Vice-President will allow me to strategically align Lake County's projects with future state and federal funding opportunities. Lake County has made significant investment in our road infrastructure over the past 3 years and this role on NOACA will help further this strategy," noted Commissioner Hamercheck.