Commissioners & Eastlake Approve Clubhouse Upgrades for Lake County Captains Stadium
Eastlake City Council unanimously approved an American Rescue Plan (ARPA) agreement with the Board of Commissioners at the April 27, 2022, Council meeting. The agreement, approved by the Commissioners on April 14, 2022, will fund clubhouse upgrades using the Coronavirus State and Local Fiscal Recovery Funds (SLFRF) program.
Recent guidance from Major League Baseball (MLB) has mandated a series of renovations/upgrades to the Club House and other ancillary items.  As noted in the "Captains Stadium Renovation" document, "Major League Baseball (MLB) has instituted player safety protocols to reduce the potential for contact spreading of the COVID-19 virus." This project will address those concerns.  The estimated cost is $3.6m.  Project costs will be finalized after public bidding in accordance with Federal procurement procedures.
"The Commissioners fully realize the importance of local attractions and quality of life amenities as it relates to the economic growth of Lake County. Having a beautiful facility and professional baseball in Lake County will continue to assist in the attraction of new residents, businesses, and visitors to our area," said Commission President John R. Hamercheck. Please click here to view the entire press release.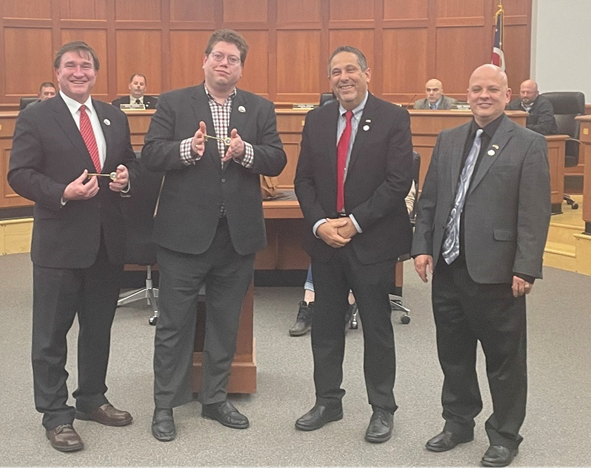 Eastlake Mayor Dennis Morley and Council President John Meyers presented County Commissioners John R. Hamercheck and John Plecnik "keys to the City" in appreciation of the County's commitment to the City and the Lake County Captains.
Tweet