Welcome to the Lake County Clerk's Office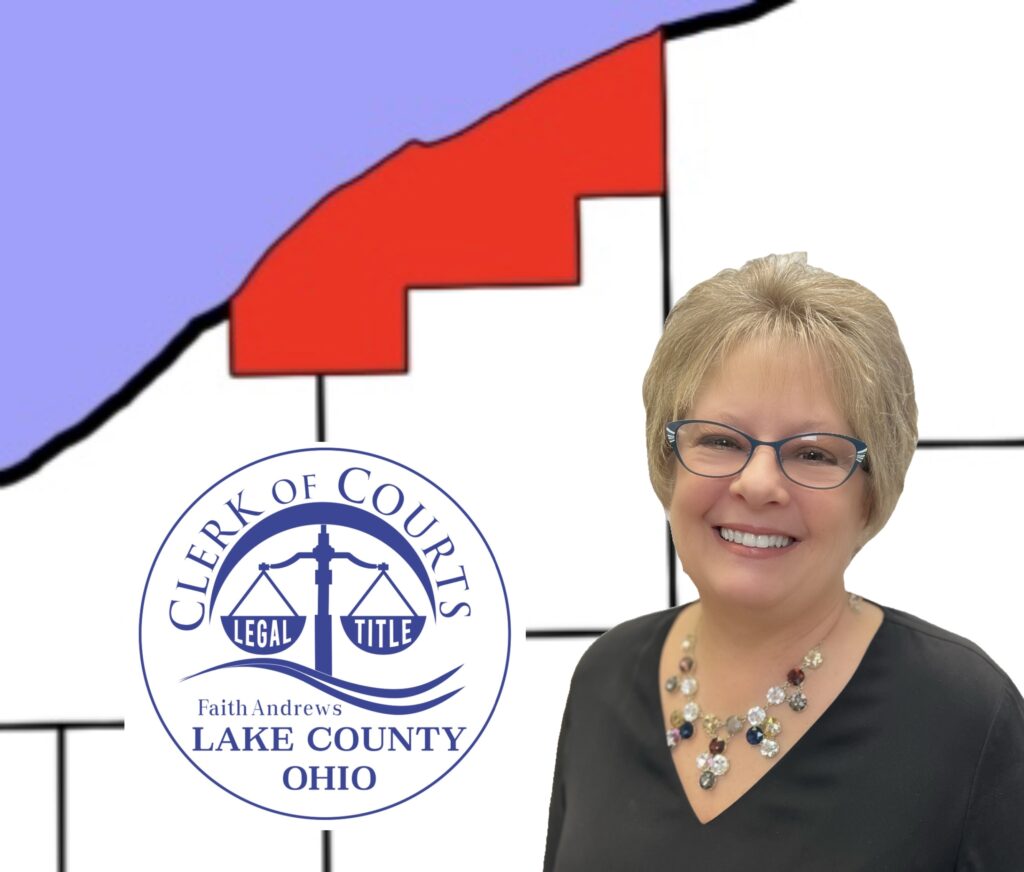 Faith Andrews
Lake County Clerk of Common Pleas Court
The Clerk of Courts office, as the "core of the court", plays a vital role in serving the interests of justice. This includes filing, docketing, indexing and preserving all court pleadings for civil, felony criminal and domestic relations cases.
Current Office Hours
Legal Division
Monday – Friday 8AM to 4:30PM
Title Division
Title Services: Monday – Friday 8AM to 4:30PM, Saturday 8AM to 12PM
Passport Services: Monday – Friday 8AM to 4PM. Appointments strongly recommended
Legal Division:
Main Office: 25 N Park Place, Painesville
(440-350-2657)
Title Division:
Title Central: 8804 Mentor Ave., Mentor
(440-350-2800)
Title West: 30188 Euclid Ave., Wickliffe
(440-918-3425)
Title Office
Title services can be procured via mail and our secure drop boxes at both locations. Please review our TITLE BY MAIL CHECKLIST for more information.
Title Central – Mentor
8804 Mentor Ave.
Mentor, OH 44060
Title West – Wickliffe
30188 Euclid Ave.
Wickliffe, OH 44092
LEGAL OFFICE

e-Services
Foreclosure eFiling is mandatory as of January 11, 2019.
Criminal eFiling is mandatory as of August 2, 2021.
Civil eFiling is mandatory as of October 4, 2021

DOMESTIC RELATIONS COURT:
Effective 7/23/2021, Court filings are to be sent to the Lake County Clerk of Courts by Regular U.S. Mail, express mail or by commercial carrier service. In person filings are not necessary.

Although not mandatory, all domestic relations initial and subsequent pleading(s) may be eFiled.
Email filings will no longer be accepted.


GENERAL DIVISION COURT:
Foreclosure and criminal cases will only be accepted via eFiling effective August 2nd, 2021. All others may be submitted in person or sent through regular mail.


Public Record Portal

[email protected]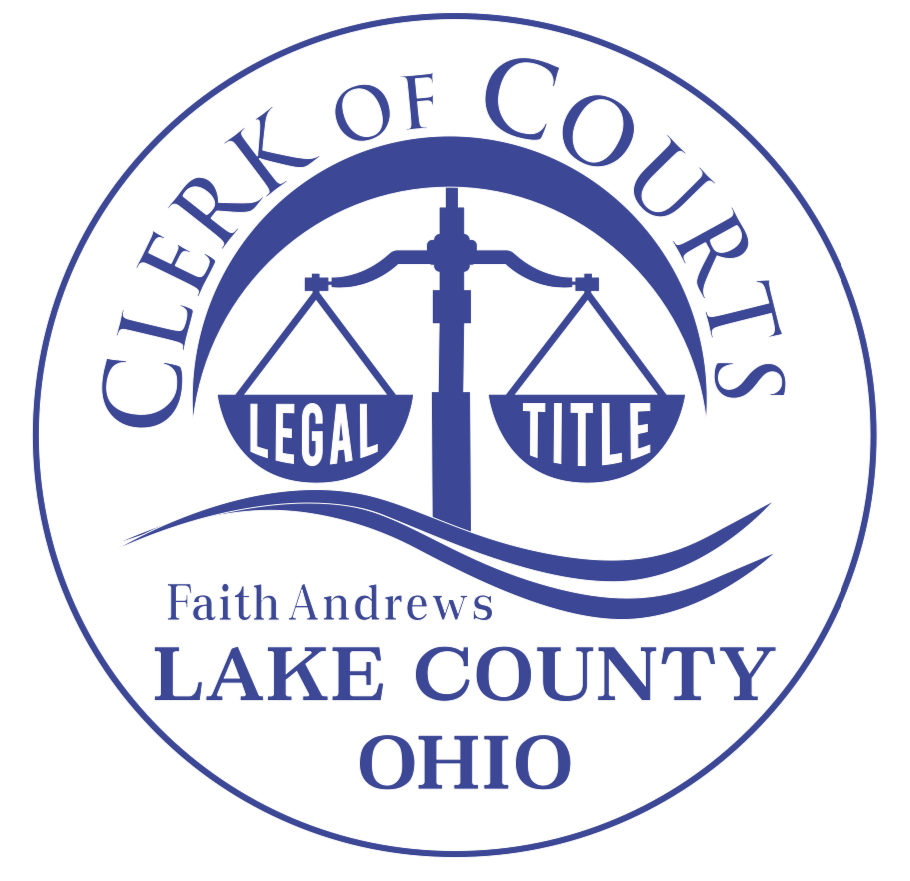 Lake County Clerk of Courts "Keeper of the Records"
The office is an agent of County, State and Federal government.
COUNTY – The Legal division of the office supports the General and Domestic Relations Courts. In her capacity as Clerk for the 11th District Court of Appeals, she supports any individual appealing cases from the above mentioned courts, Juvenile, Probate or any of our three Municipal Courts. The Clerk performs all statutory duties related to the filing, preservation and dissemination of public records. She collects, holds in trust and disburses monies in a secure, timely and cost effective manner.
STATE – Both Title offices, Mentor and Wickliffe, issue titles for motor vehicles, watercraft and manufactured homes .
FEDERAL – Title offices have been designated to serve as Passport Acceptance Agencies.
Latest News
Mentor – 8804 Mentor Ave. Mentor, Ohio 44060 440.350.2800 Wickliffe- 30188 Euclid Ave. Wickliffe, Ohio […]
With the reopening of the County buildings on Monday, May 9, 2021 and the continued […]
Clerk of Courts Resources
You have moved to Ohio from another State. You won the vehicle fee and clear of any liens and it is Titled in your name only. You will need the following:

Original Out of State Title  State I.D. or Ohio driver's license Out of State Vehicle Inspection  Cash, personal check, cashier's check or money order for the Title Fees 

You have moved from another State. The Title is in more than one name and you are making payments to a lender. You will need the following:

Original Out of State Title Notarized Power of Attorney from Lease Company allowing you to sign for them  Out of State Vehicle Inspection  State I.D. or Ohio driver's license  Cash, personal check, cashier's check or money order for the Title Fees 

You have purchased a vehicle from an individual who lives in Ohio. You will need the following:

 The Original Ohio title with the top half of the reverse side completed by the seller and notarized. If the Title is a Gold Title and the vehicle has no place for mileage, you will need a Federal Odometer Statement with the seller's portion completed.  State I.D. or Ohio driver's license  Cash, personal check, cashier's check or money order for the sales tax and Title Fees 

You have purchased a used vehicle from an individual in another state. You will need the following:

The Original Title from the state in which the seller resides. The assignment must be complete and if the Title document has a space for a Notary Public, it must be notarized.  Out of State Vehicle Inspection  Bill of Sale if purchased from a dealer  State I.D. or Ohio driver's license  Loan papers if applicable  Cash, personal check, cashier's check, or money order for taxes and title Fees 

You have purchased a new vehicle from an out of state dealer. You will need the following:

Manufacturer's Certificate of Origin (MCO) from the Dealer  Bill of Sale  Federal Odometer Statement  State I.D. or Ohio driver's license  Cash, personal check, cashier's check, or money order for taxes and title Fees

You have purchased a used vehicle from a dealer in another state. You will need the following:

The Out of State Title signed over to you by the Dealer  An original or certified copy of the Bill of Sale  Federal Odometer Statement  Out of State Vehicle Inspection  State I.D. or Ohio driver's license  Cash, personal check, cashier's check, or money order for taxes and Title Fees 
| Location Name | Address | City | Zipcode | Website | Phone |
| --- | --- | --- | --- | --- | --- |
| Clerk of Courts Legal Offices | 25 North Park Place, | Painesville | 44077 | | 440-350-2657 |
| Painesville Municipal Court | 7 Richmond Street | Painesville | 44077 | http://www.pmcourt.com/ | 440-392-5900 |
| Title Central – Mentor | 8804 Mentor Ave | Mentor | 44060 | | 440-350-2800 |
| Title West – Wickliffe | 30188 Euclid Ave | Wickliffe | 44092 | | |
| Willoughby Municipal Court | 4000 Erie Street | Willoughby | 44094 | http://www.willoughbycourt.com/ | 440-953-4150 |
| Title | Description | URL |
| --- | --- | --- |
| Domestic Relations Court Forms | | https://lcdrct.org/forms-filings/ |
| Legal Topics and Forms – FindLaw | | https://www.findlaw.com/ |
| NEOCAP | | https://www.neocap.org/ |
| Statistics | | http://www.supremecourt.ohio.gov/publications/ |