Skip to Resources Section
Notice Of Real Estate Tax Due Dates
Current Real Estate Tax
Wednesday, February 16, 2022 
Last Day Of Payment Of 1st Half of 2021 Taxes
Notice is hereby given that Real Estate Taxes for the First Half of 2021 are due and payable on or before Wednesday, February 16, 2022. Payments that are mailed must have a postmark of Wednesday, February 16, 2022 or before by the United States Postal Service only. Postmarks from private mailing machines are no longer acceptable. After February 16, 2022, a penalty must be charged in accordance with the Ohio Revised Code. In addition, interest is charged twice yearly on certified unpaid balances.
When your mortgage is paid or if it is sold to another mortgage company, it is the owner's responsibility under the Ohio Revised Code to see that this office is advised in order that the tax bill will be sent to the correct address.
Every effort is made to see that you receive your tax bills; however, Section 323.13 of the Ohio Revised Code provides that the property owner is responsible for payments (plus any penalties and interest) even if you did not receive your bill. Please call us at once if you did not receive your bill or if you have any indication that your tax bill may have been misdirected.
Michael Zuren
Lake County Treasurer

105 Main Street
Painesville, Ohio 44077

Office Open 8:00 AM To 4:30 PM-Monday Thru Friday (Holidays Excluded)
Phone: (440)350-2516 – Painesville

(440)918-2516 – West End And Cleveland
(440)428-4348 – Madison
1-800-899-5253
Drive Thru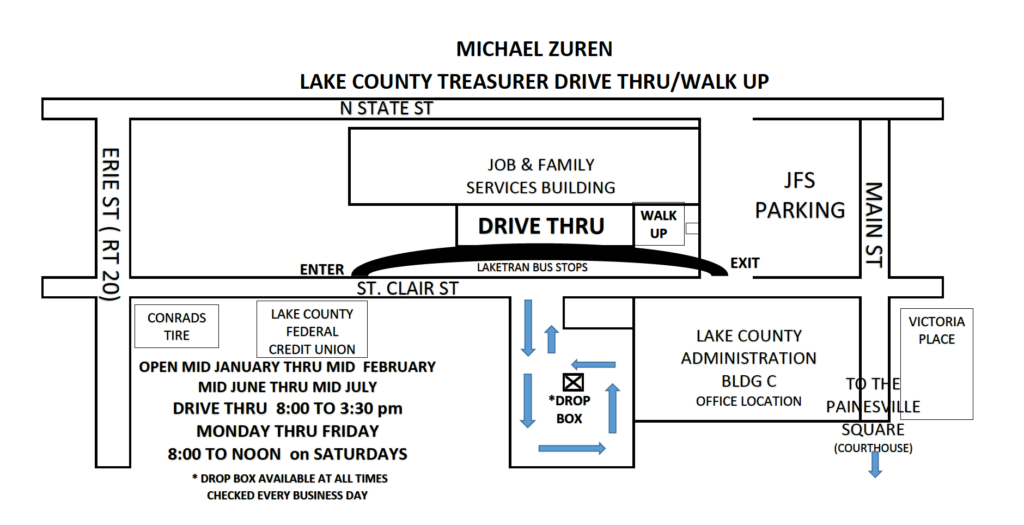 Drive Thru available in Painesville on East Side of Clair St. between Erie (RT.20) and Main Streets

During Collection Monday thru Friday 8:00 AM – 3:30 PM
Saturdays 8:00 AM thru 12 Noon

Night Depository Available 24 Hours – 7 Days a Week All Year